Dear friends, SouthFront Team calls on you to share your opinion on the US Presidential Election 2020 and what's going on in the United States in the comment section.
***
UPDATE: The US presidential race does not seem to be over despite the claims of the Democrats about the nearing vicotry of Joe Biden. Georgia's Secretary of State already confirmed that there will be a recount.
BREAKING: There will be a recount in Georgia, the state's secretary of state just said during a news conference #Election2020

Joe Biden currently holds a narrow lead there over President Trump https://t.co/CSe4typnbM pic.twitter.com/dcPHqcx1Rn

— Bloomberg (@business) November 6, 2020
The recount can change the situation in the favor of Trump: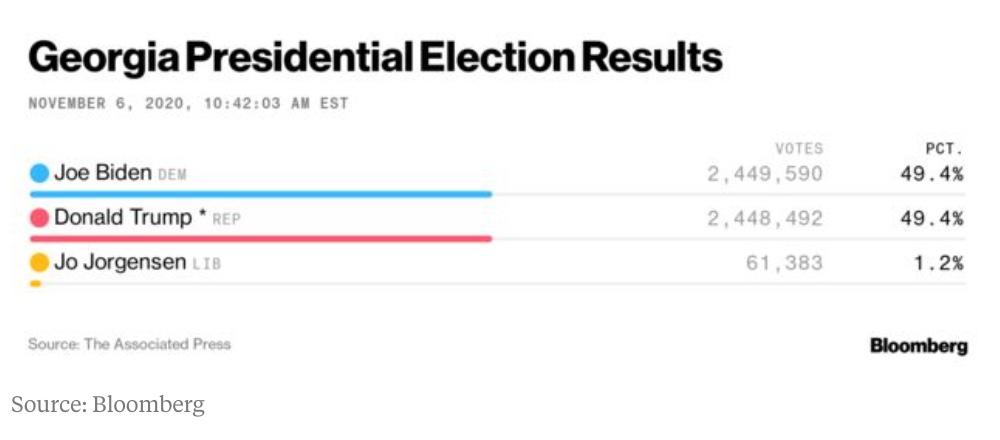 The Trump HQ reports multiple violations in the election process that may have lead to the advantage of Biden (i.e. the vote fraud) and plans to challenge results by recounts and legally.
***
The US Presidential election is turning into one big scandal.
I easily WIN the Presidency of the United States with LEGAL VOTES CAST. The OBSERVERS were not allowed, in any way, shape, or form, to do their job and therefore, votes accepted during this period must be determined to be ILLEGAL VOTES. U.S. Supreme Court should decide!

— Donald J. Trump (@realDonaldTrump) November 6, 2020
Twitter is out of control, made possible through the government gift of Section 230!

— Donald J. Trump (@realDonaldTrump) November 6, 2020
On November 5th, US President Donald Trump gave a speech from the White House's press briefing room.
All three major broadcast television networks in the US – MSNBC, NPR and NBC –  cut away from the speech as the president started making false claims, according to MSM.
Prior to that, Trump last appeared in public on November 4th, when he falsely declared victory over Democrat Joe Biden in the presidential race.
Trump has also publicly called for vote counting to stop by citing baseless allegations of fraud and misconduct.
US Presidential Candidate Joe Biden also said that he wasn't going to announce his victory, but also said that when the vote count is done, he would be the victor, which is essentially the same thing, but it was somehow acceptable.
The speech that was cut off is below:
There are also calls for litigation against Trump himself.
Regardless, there are reports of election fraud all around, and primarily in swing states such as Michigan.
Worker came up to my wife and made her delete any recordings of what's happening in that room from her phone. pic.twitter.com/r24iyt9pxL

— Aric Nesbitt (@aricnesbitt) November 4, 2020
GOP attorney being escorted out. pic.twitter.com/AszXQSIde1

— Aric Nesbitt (@aricnesbitt) November 4, 2020
Aric Nesbitt, a Michigan state senator, posted a video on Twitter showing election workers at the convention center in Detroit, where absentee ballots are being counted. The video shows workers cheering every time an official election observer with the Michigan GOP is ejected from the counting room.
Nothing suspicious going on, at all, right?
In addition, all forecasts of the election predicted a "blow-out" for Joe Biden and Kamala Harris.
What's being seen, however, is an extremely close election, with just a small share of votes hanging in the balance, and the states that Biden is winning are exquisitely dubious.
Two weeks before the election, the "nonpartisan" Cook's Political Report predicted an expanded Democrat majority in the House, a "net gain of five to ten seats to a gain of between five and 15 seats." On election day, House Speaker Nancy Pelosi and House Democrat campaign chairwoman Rep. Cheri Bustos predicted Democrats "would not only defend gains made in 2018 but flip districts thought to be in safe Republican territory."
None of this happened.
"Moscow" Mitch McConnell and Lindsey Graham, who received much flak and scrutiny, were "destined to lose."
They didn't.
Amy McGrath and Jaime Harrison raised a combined $199,004,686 and lost to Mitch McConnell and Lindsey Graham by a combined 35 points.

— Jake Sherman (@JakeSherman) November 4, 2020
"Democrats had methodically targeted seat pickup opportunities in several legislative chambers to flip party control in Arizona, Iowa, Michigan, Minnesota, North Carolina, Pennsylvania and Texas," USA Today says. "While some statehouse seats are still being tallied, Republicans held onto control of many of those places, notably in North Carolina's state House and Senate. Texas, considered one of the biggest flip opportunities, also stayed red. Republicans likely will hold key voting majorities in Pennsylvania, Ohio and Michigan ahead of reapportionment next year."
That desk claimed last night that Democrats would net 5 additional House seats. As of right now, the GOP is +5 in the House, with only 48 seats left uncalled. And of those 48 races, Dems are leading in only 16, of which 14 are already held by Democrats. https://t.co/FsGSVaz6db

— Sean Davis (@seanmdav) November 4, 2020
The big, smashing victory, appears out of reach.
Some of the votes, also, appear to be from people who have died, and not recently, but decades ago.
A vote was registered by "118-year-old William Bradley", who died back in 1984. Presumably, he came back from the grave to vote for Joe Biden.
CIVIL WAR VETS FOR BIDEN! #Election2020 pic.twitter.com/LgEpaT15zR

— Essential Fleccas ?? (@fleccas) November 5, 2020
AND ANOTHER: 120 year old Terry Mathis (born 1900) apparently voted via absentee ballot in Wayne County, Michigan as well.

It gets crazier. It says this person applied for an absentee ballot on 11/2/20, the ballot was then sent out AND returned in the same day (11/2/20).

How?? https://t.co/Pt6g0PpljJ pic.twitter.com/CIW8VC0a97

— Essential Fleccas ?? (@fleccas) November 5, 2020
Here's me plugging it in myself pic.twitter.com/QrDUoshsKJ

— Essential Fleccas ?? (@fleccas) November 5, 2020
And finally, nothing questionable taking place in Atlanta, at all:
Nothing to see here https://t.co/TsFnZBbHxu

— Eric Trump (@EricTrump) November 5, 2020
Biden was projected to win by a significant margin in all of the states on which the election now hangs.
There appears to be no relation to polling averages versus actual election night returns — the current vote tallies are in bold at top, to compare to the wildly inaccurate polling averages in the graphs below.
The graphs below show states which are key for a Donald Trump presidential race win. Most of them show discrepancies that are beyond the statistical mistake interval.
The final results aren't yet in, and it is interesting if any of the accounts of obvious fraud would even be effectively registered, since it appears that the election result has very obviously been decided in advance.
On a lighter note, it turns out that a viral meme in Brazil, currently, is this one:
MORE ON THE TOPIC: