The US Central Command joined a parade of excuses over the questionable results of the US missile strike on the Syrian Shayrat military airfield launched by President Donal Trump last weekend. (more here)
The reason you don't generally hit runways is that they are easy and inexpensive to quickly fix (fill in and top)!

— Donald J. Trump (@realDonaldTrump) April 8, 2017
Let's recall the core of the issue: The US military launched 59 Tomahawks cruise missiles against the Shayrat military airfiled operated by the Syrian Air Force near the city of Homs.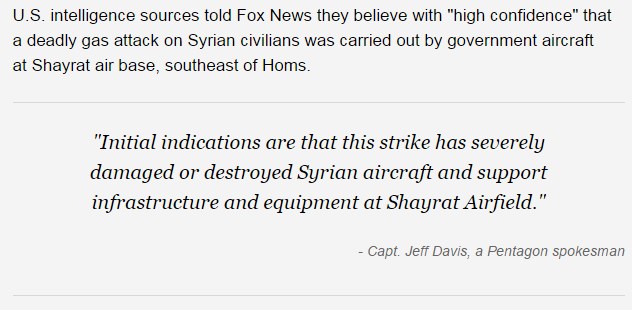 However, the Shayrat military airfiled became operatinal in just few hours after the US missile strike. Such "great results" made significant jitters in the social media. As a result, the mainstream media, "anonymous US defense sources" and even President Trum have been trying to explain this "success" since Friday. Now, the CENTCOM joined the game.
.@CENTCOM Spox: It was not our intention to make the #Syria Shayrat Airfield inoperable (1/3) — U.S. Central Command (@CENTCOM) April 10, 2017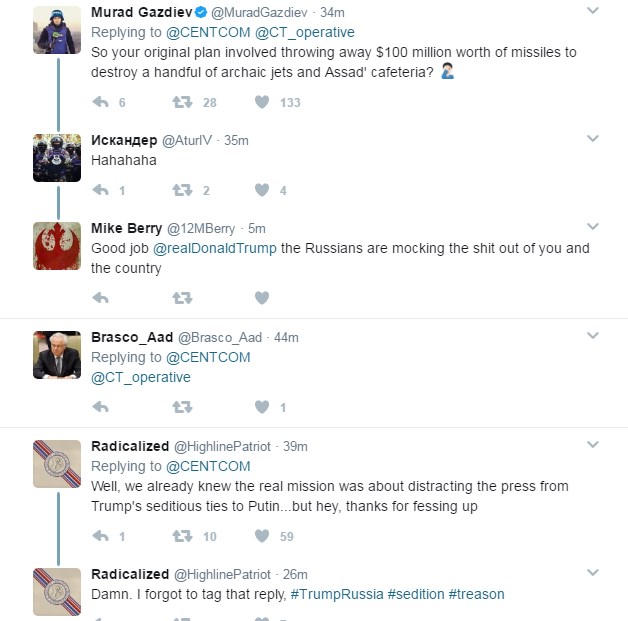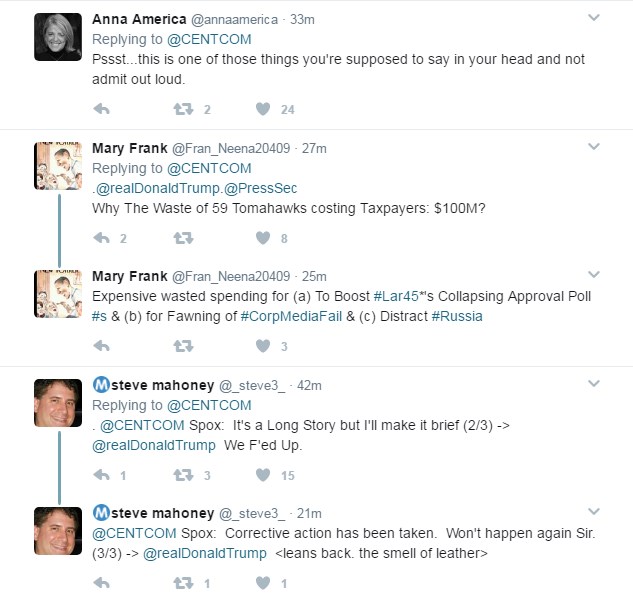 It's also interesting to note that CENTCOM is sure that there are some "chemical weapons storages" (!) at the Shayrat military airfield and the US Navy avoided targeting them. Unfortunately, the CENTCOM is not able to provide at least a satellite photo of a chemical weapons depot. Most likely, it's "top secret" evidence.
.@CENTCOM Spox: It was our intention to degrade Syrian's capability to perform chemical attacks #Syria (2/3)

— U.S. Central Command (@CENTCOM) April 10, 2017
.@CENTCOM Spox: We targeted fuel reserves, aircraft, and did not target chemical weapons storages #Syria (3/3) — U.S. Central Command (@CENTCOM) April 10, 2017
The whole story with the US missile strike on Syria looks like that somebody made a very bad move and then started trying to explain it as a success.
No doubts, if the new administration continues to act this way, it could start a regional war, involving Russia an Iran. is this the goal?