Originally appeared at ZeroHedge
President Trump has slammed Portland Mayor Ted Wheeler, who placed the blame for nationwide violence squarely on the president's shoulders on Sunday following the Saturday night killing of a Trump supporter on the streets of Portland.
"Ted Wheeler, the wacky Radical Left Do Nothing Democrat Mayor of Portland, who has watched great death and destruction of his City during his tenure, thinks this lawless situation should go on forever," Trump tweeted on Sunday – adding "He tried mixing with the Agitators and Anarchists and they mocked him."
….He tried mixing with the Agitators and Anarchists and they mocked him. He would like to blame me and the Federal Government for going in, but he hasn't seen anything yet. We have only been there with a small group to defend our U.S. Courthouse, because he couldn't do it….

— Donald J. Trump (@realDonaldTrump) August 30, 2020
..The people of Portland, like all other cities & parts of our great Country, want Law & Order. The Radical Left Democrat Mayors, like the dummy running Portland, or the guy right now in his basement unwilling to lead or even speak out against crime, will never be able to do it!

— Donald J. Trump (@realDonaldTrump) August 30, 2020
Earlier Sunday, Wheeler blamed Trump for the violence.
Ted Wheeler has blood on his hands. He decided to play politics and refused @realDonaldTrump's offer to send the National Guard to end the riots and now an innocent Trump supporter is dead at the hands of the radical leftwing mob because of it. He's a disgrace!!! https://t.co/3PDkiOxfhT

— Donald Trump Jr. (@DonaldJTrumpJr) August 30, 2020
When asked what his solution is to the violence gripping Portland, the mayor suggested that he'll be pushing for criminal justice reform – which will be accomplished by "Re-imagining what local policing can look like."
Portland Mayor Ted Wheeler is asked what he's going to do to prevent more violence. He says to continue pushing criminal justice reform and redirecting some police funding to other purposes. Big job: 'Re-imagining what local policing can look like.'

— Byron York (@ByronYork) August 30, 2020
Meanwhile…
Trump has paid his respects to the deceased, Jay Bishop.
Rest In Peace Jay! https://t.co/j6FYxIygmh

— Donald J. Trump (@realDonaldTrump) August 30, 2020
*  *  *
Update (1620ET): Joe Biden's handlers have crafted a carefully written condemnation following the Portland shooting – which essentially boils down to "violence is bad."
"I condemn violence of every kind by anyone, whether on the left or the right. And I challenge Donald Trump to do the same," reads the statement, which continues: "We must not become a country at war with ourselves."
Biden's staff then took aim at President Trump, writing "The job of a President is to lower the temperature. To bring people who disagree with one another together. To make life better for all Americans, not just those who agree with us, support us, or vote for us."
Biden's statement places zero percent of the blame on Antifa, BLM, or even the shooter himself and puts all of the blame on Trump and conservatives. This is cowardly, cynical, reckless, and it reveals all of that "Biden is such a decent guy" stuff to be pure bullshit. https://t.co/qtkGCd8RpQ

— Matt Walsh (@MattWalshBlog) August 30, 2020
The former VP must have missed that 'all Americans' were enjoying the best economy in decades before the pandemic hit. Over 7 million jobs had been created, minority unemployment hit all-time lows, women's unemployment hit a 65-year low, the stock market hit record highs, and the poverty rate fell to a 17-year low.
Life was better for all Americans until the pandemic hit.
The left has cheered Biden's condemnation.
For Biden, this condemnation of violence on all sides comes naturally and sincerely. For Trump, it's inevitably one-sided except when he's being blatantly hypocritical. https://t.co/j3XuQ0nq55

— Laurence Tribe (@tribelaw) August 30, 2020
Read Biden's statement below:
The deadly violence we saw overnight in Portland is unacceptable. Shooting in the streets of a great American city is unacceptable.

I condemn violence of every kind by anyone, whether on the left or the right. And I challenge Donald Trump to do the same. https://t.co/JRuI7ya2Wv

— Joe Biden (@JoeBiden) August 30, 2020
Biden releases statement on killing in Portland: pic.twitter.com/oq8ed0viAP

— Byron York (@ByronYork) August 30, 2020
Meanwhile..
Our great National Guard could solve these problems in less than 1 hour. Local authorities must ask before it is too late. People of Portland, and other Democrat run cities, are disgusted with Schumer, Pelosi, and thier local "leaders". They want Law & Order! https://t.co/f6LOKcf7BU

— Donald J. Trump (@realDonaldTrump) August 30, 2020
— Comfortably Smug (@ComfortablySmug) August 30, 2020
Also on Sunday, Politico reported that Biden is going to pass on visiting Kenosha, Wisconsin on Monday despite the fact that he is expected to travel. President Trump is scheduled to visit the riot-stricken city on Tuesday.
The thinking, according to these people, is that Trump's trip to Kenosha could backfire on the president. The Biden campaign is ramping up its messaging that the unrest in the city and elsewhere is an outgrowth of the president's rhetoric that inflames racial tensions.
Trump announced a trip to Kenosha as he attempted to claim credit for calm on the streets of Kenosha after he made a call to bring in the National Guard.

"Success: Since the National Guard moved into Kenosha, Wisconsin, two days ago, there has been NO FURTHER VIOLENCE, not even a small problem," Trump tweeted on Friday. "When legally asked to help by local authorities, the Federal Government will act and quickly succeed. Are you listening Portland?" –Politico
The shooter in Portland's Saturday night murder is still at large.
*  *  *
Summary:
An alleged Trump supporter was shot dead in Portland late on Saturday as protesters from rival groups clashed in the northwest U.S. city, which has seen frequent demonstrations for months that have at times turned violent.  Sounds of gunfire were heard in the area of Southeast 3rd Avenue and Southwest Alder Street, according to the spokesman's statement.
Police said in statements that both the death and protest violence occurred in downtown Portland. However, they did not immediately link the shooting death to the protests.
"(Police) responded and located a victim with a gunshot wound to the chest. Medical responded and determined that the victim was deceased," a Portland police spokesman said in an emailed statement. A Homicide Investigation is underway."
The police said they were not currently releasing suspect information.
The New York Times and the Oregonian newspapers reported that a large group of supporters of President Donald Trump had traveled in a caravan through downtown Portland, with a pro-Trump gathering drawing hundreds of trucks full of supporters into the city. The Times cited two unidentified witnesses as saying a small group of people got into an argument with other people in a vehicle and someone opened fire.
The man who was shot and killed was wearing a hat with the insignia of Patriot Prayer, a far-right group based in Portland that has clashed with protesters in the past, according to the New York Times. Reuters could not independently verify this.
When asked by Reuters if the shooting was related to clashes between rival protesters in the same area, the spokesman said "it is too early in the investigation to draw those kinds of conclusions".
Meanwhile, Twitter is labeling this advertisement 'manipulated media.'
* * *
Update (1220ET): New footage has emerged suggesting that the shooter may have been in a vehicle.
New never before seen footage of the shooting of the Trump supporter in Portland, Oregon on August 29. pic.twitter.com/6QQzZOjWJq

— Ian Miles Cheong (@stillgray) August 30, 2020
* * *
Update: (0300ET): Portland protesters are now celebrating the man's death:
"I am not sad that a f**king fascist died tonight," yells a female Antifa militant at a gathering in downtown Portland. The crowd laughs and cheers. The victim was a Trump supporter. pic.twitter.com/XK4Czzseia

— Ian Miles Cheong (@stillgray) August 30, 2020
Black Lives Matter protesters and Antifa are cheering on the murder of a Trump supporter tonight in Portland.

"Our community held its own and took out the trash." pic.twitter.com/9rJjBlwL1s

— Ian Miles Cheong (@stillgray) August 30, 2020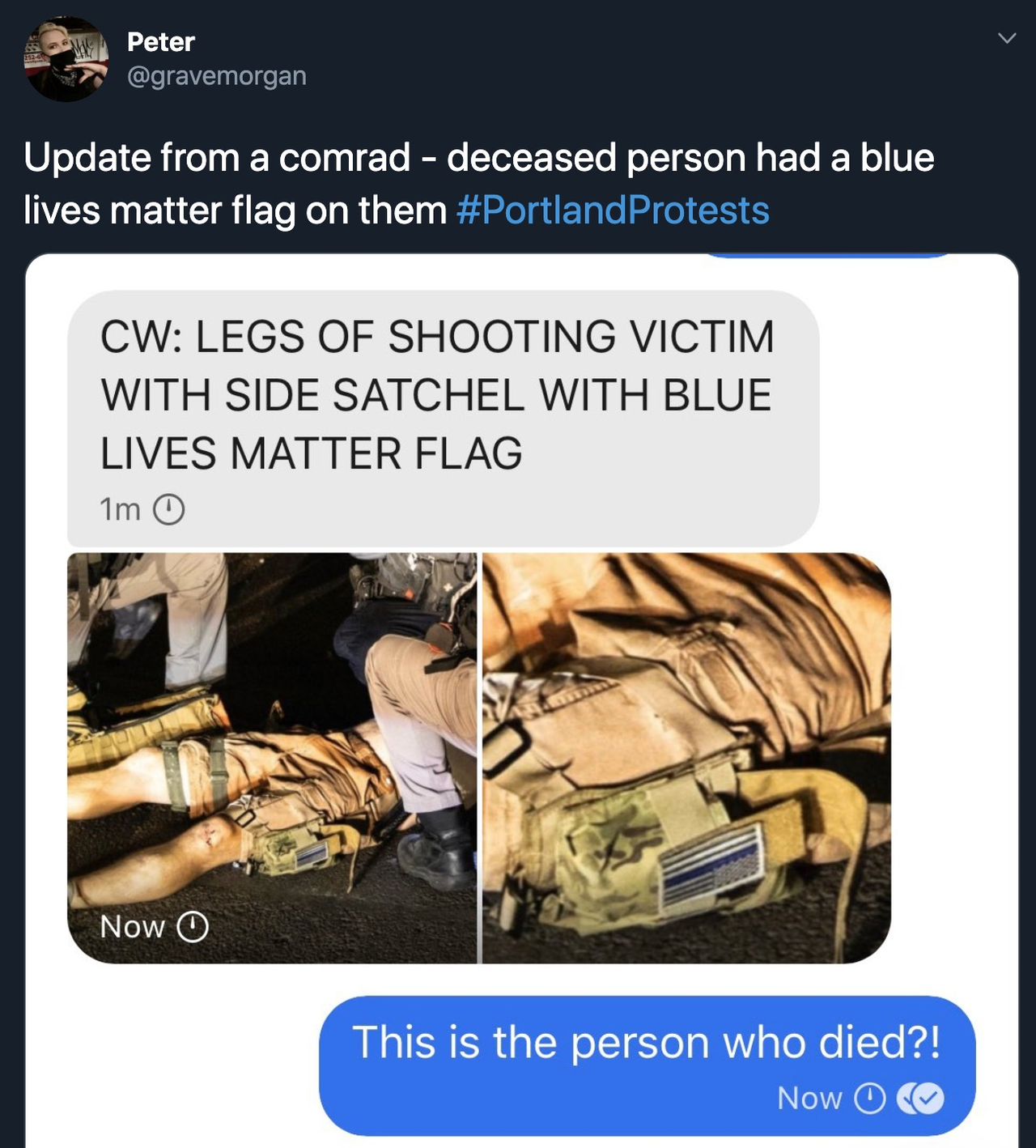 A large effort is underway to identify the shooter, which – if he's the man in the below clip (unconfirmed), was misidentified as a black male earlier in the evening.
Portland shooter is 100% part of BLM/Antifa. He's all over the video 7-8 mins earlier next to the bullhorn guy.

White kid in sandals talking to a girl in a striped dress.

He said to her "Hey, I hope I didn't scare you earlier." 3 mins before he shoots the Trump supporter. pic.twitter.com/tH4Lx0hfGi

— Dataracer (@Dataracer117) August 30, 2020
Meanwhile, Twitter is full of hot takes and condolences:
I'm at a loss for words. Antifa killed my friend in Portland tonight. I'm heartbroken. Completely devastated. I have nothing left to say.

— Katie Daviscourt?? (@KatieDaviscourt) August 30, 2020
Will social media platforms ban all of BLM / Antifa from its platform now?

If the Proud Boys meet Facebook's "dangerous individuals and organizations" policy, what about a movement that just openly incited murder?

— Allum Bokhari (@LibertarianBlue) August 30, 2020
A Trump supporter was murdered tonight in Portland. No one will riot in his name or donate millions to his family because he wasn't shot by the police while resisting arrest.

Instead he is being smeared as a white supremacist, an extremist, and a terrorist, for being killed.

— Ian Miles Cheong (@stillgray) August 30, 2020
Meanwhile, "We burn them the fuck down"
BLM leader: "I want to to put these police in a f—ing grave … I want to f—ing burn the White House down… I f—k police up in New York, I f—k police up in DC"pic.twitter.com/x2Defrrxar

— Marina Medvin ?? (@MarinaMedvin) August 30, 2020
Live cams:
*  *  *
A man was shot in the chest and killed in downtown Portland Saturday night as violence broke out across the city between a participants in a pro-Trump caravan and a protest organized by several opposing groups, including Antifa.
Police are investigating the incident which occurred at around 8:45 p.m. when officers responded to the sound of gunfire.
According to The Oregonian, police found "camouflage gear with infidel and thin blue line patches, which commonly indicate support for law enforcement, while the New York Times reports that he was "wearing a hat with the insignia of Patriot Prayer," a right-wing group which has had frequent altercations with Antifa over the past several years.
(Real) Medics tried to save the shooting victim in downtown Portland. It is a white male contrary to what antifa journalists and accounts said about it being a black victim. pic.twitter.com/jzE2ffqN73

— Andy Ngô (@MrAndyNgo) August 30, 2020
Patriot Prayer founder Joey Gibson showed up to the scene of the shooting, and was promptly chased down the street by orotesters. Gibson took refuge in a gas station.
Joey Gibson showed up pic.twitter.com/UoY9zvwlLJ

— Sergio Olmos (@MrOlmos) August 30, 2020
Gibson has gone into a local gas station, protestors try to open the doors pic.twitter.com/Nb3d3iIsOA

— Sergio Olmos (@MrOlmos) August 30, 2020
Police eventually cleared the scene.
Police move and move protestors away from the gas station pic.twitter.com/FJNnewoXcm

— Sergio Olmos (@MrOlmos) August 30, 2020
Earlier in the day, pro-Trump supporters and left-wing protesters squared off. At one point, a man reportedly filming the license plates of conservative attendees was beaten. As he falls, you can see his arms fly straight forward in the 'fencing response,' suggesting possible brain damage. He was later interviewed speaking coherently, however.
Doxxer down #portland https://t.co/x7ndE7OsfV

— Cacti (@SCCacti) August 30, 2020