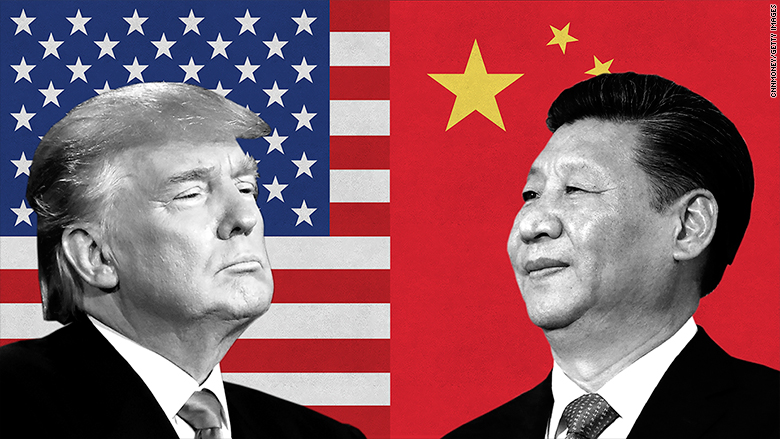 Originally appeared at ZeroHedge
After a fiery start to his foreign policy overtures, Trump is gradually normalizing his approach to international diplomacy.
On the same day as relations with Mexico appeared to return to normal, following reports of a meeting scheduled with the country's foreign minister, and days ahead of the much anticipated summit with Japan's PM Abe, Trump "broke the ice" with Chinese President Xi Jinping in a letter that marked the US president's first direct communication with the Chinese leader since he took office, in which he said he looked forward to working with him to develop relations.
Trump thanked Xi for a congratulatory letter and wished the Chinese people a happy Year of the Rooster, according to White House spokesman Sean Spicer.  "President Trump stated that he looks forward to working with President Xi to develop a constructive relationship that benefits both the United States and China," Spicer said in a statement Wednesday night.
Still, while Trump has had phone calls with Vladimir Putin, Enrique Pena Nieto and Recep Tayyip Erdogan since he took office, some perceived the mere letter as a modest snub to the president of the world's second biggest economy. Trump and Xi have yet to speak directly since Trump took office on Jan. 20, although they did talk soon after Trump won the U.S. presidential election in November.
Trump, who has spoken with more than a dozen heads of state since taking office, is scheduled to speak on Thursday with the leaders of Afghanistan, Qatar, Kuwait and Iraq.
China Foreign Ministry spokesman Lu Kang responded in his daily briefing by saying "we highly appreciate President Trump's holiday greetings to President Xi Jinping and the Chinese people." Asked whether it was a snub that Trump had held calls with many other world leaders as president, but not Xi, Lu said: "This kind of remark is meaningless."
He reiterated that China and the U.S. had maintained "close communication" since Trump took office and that cooperation was the "only correct choice". "China is willing to work with the United States in adhering to the principles of non-confrontation, mutual respect and mutual benefit to promote cooperation, control disputes, and on a healthy and stable foundation, promote greater development in China-U.S. ties," Lu said.
Diplomatic sources in Beijing say China has been nervous about Xi being left humiliated in the event a call with Trump goes wrong and the details are leaked to the U.S. media.
"That is the last thing China wants," a source familiar with China's thinking on relations with the United States told Reuters. "It would be incredibly embarrassing for President Xi and for Chinese people, who value the concept of face." A senior non-U.S. Western diplomat said China was unlikely to be in a rush to set up such a call. "These things need to happen in a very controlled environment for China, and China can't guarantee that with the unpredictable Trump," the diplomat said.
"Trump also seems too distracted with other issues at the moment to give too much attention to China."
As Bloomberg adds, :prior U.S. leaders have not always rushed to chat on the phone with their Chinese counterparts, even though Jiang Zemin's visit to America in October 1997 led to an agreement on a hotline. Former President George W. Bush waited until July of his first term to speak with Jiang. By contrast, Barack Obama called Hu Jintao 11 days after his inauguration in 2009."
Xi has reached out to Trump three times since his election win, including two congratulatory messages. They had a phone conversation on Nov. 14 in which Xi said cooperation was "the only correct choice" for ties. "It's better than nothing, but it's only a very small gesture," said Shi Yinhong, a foreign affairs adviser to China's cabinet and director of the Center on American Studies at Renmin University in Beijing, referring to Trump's note. "Trump's China policy hasn't taken a clear shape yet, although all the signs so far point to a combative approach."
China has repeatedly said it has smooth contacts with the Trump team. The Foreign Ministry in Beijing said last week the two countries were remaining "in close touch". That contact has been led by China's top diplomat, State Councillor Yang Jiechi, who outranks the foreign minister. Yang told Michael Flynn, Trump's National Security Advisor, last week that China hopes it can work with the United States to manage and control disputes and sensitive problems.
The source familiar with China's thinking said Trump's administration was "very clear" about China's position on Taiwan. Trump has yet to mention Taiwan since he took office.
Chinese state media has wondered whether Trump has a China policy at all. On Thursday, the widely read Global Times tabloid, published by the ruling Communist Party's official People's Daily, noted that Trump had not immediately confronted China as had been expected because he had realized upsetting Beijing would backfire badly.
"He has probably realized that real tough action against China would result in a complex chain reaction, even beyond his control," the paper said in an editorial.
In a sign that Trump is gradually learning conventional diplomacy, Wang Yiwei, a professor of international relations at Beijing's elite Renmin University, said the letter suggested the new U.S. administration wanted to signal the importance it attached to the U.S.-China relationship without risking being confronted on specific issues. "Trump has sent many messages that makes the world confused, like on the South China Sea and 'One China' policy, so if he makes a phone call President Xi will ask 'what do you mean?'," Wang said. "He wants to avoid this so he just sends a letter for the first step."
It is the next steps, however, that worry China.
Beijing has sought both official and informal channels to boost communication with the new administration. Trump's daughter Ivanka was invited to a Chinese lunar new year event on Feb. 1 in the embassy in Washington, and a White House official said Ambassador Cui Tiankai and Jared Kushner, Ivanka's husband and a presidential adviser, have an ongoing dialogue. "The most worrying aspect about the new presidency is his temperament, not his policy," said Wang Fan, director of China Foreign Affairs University's Institute of International Relations. "We're worried he'd go to the extreme."