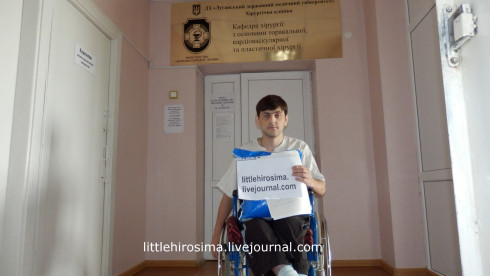 Originally written by Yevdokia "Dunya" Sheremetyeva on her littlehirosima blog; translated from Russian by J.Hawk
This is Lyosha.
Now he's our Lyosha.
In spite of his 29 years of age, he is at a retirement home. In Rovenki. On the Donbass.
Two years already. With the elderly.
He has nobody. He is alone. Not needed by anyone in the world. Young.
Broken spine at the blossoming of his life.
We met him during our July visit. And now he is ours.
Lyosha is now at a surgery ward in Lugansk.

Zhenya took him there.
Because on Lyosha's butt, pardon the expression, the bedsore consumed "meat" the size of a fist.
And now there's an empty spot there.
Which needs to be covered.
Otherwise there will be problems.
While I was carousing around Maltas, sent my kid to school, and in general was having a ball, the guys–Lena and Zhenya–were constantly running back and forth, helping our wards. Sergey Kutsenko, Vika, and now Lyosha.
Disposable diapers, food, moist wipes, catheters, urine bags, medicines, ointments, change for the phone…
And, even more importantly, meeting with doctors, deliveries by car, logistics.
But that's not even the heart of it.
Lyosha realized that someone is thinking about him.
Because Lyosha is no longer alone.
Because Lyosha now has us. And you.
After my last publication about Lyosha, two computers were found for him in Moscow.
Naturally, he doesn't need two. We'll find another use for it.
But a young person really needs a computer. He can't wait for us to deliver it.
There is no internet at the retirement home. What is to be done…
Well, it's not the most difficult thing we've ever done.
We'll have to set up internet, then.
One girl offered to buy him a tablet. And I'm thinking, maybe a smartphone would be better?
Olga Medvedskaya already transferred 10 thousand rubles to help him, which Zhenya and Lena already used.
Thank you!
Somewhere far, far away, there is a secret, very secret thought.
What if? What if he is able to walk?
We have to try. Try to find out.
It's scary even to think.
What if?
I'll never forget when I saw him. On the first floor, in the back of the room. With the elderly walking around. With the strong odor of urine.
He was embarrassed, avoided my eyes, and it was clear he's awkward when facing an young woman. Facing me.
And I was embarrassed, and I felt awkward.
If you want contribute to humanitarian assistance to the people of the Donbass, contact me in person through my livejournal account, through Facebook, or via email: littlehirosima@gmail.com. Everything will be delivered and reported.