US General John Allen believes that it would take a generation or more to defeat the Islamic State in Iraq and Syria.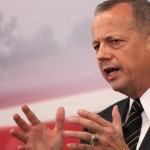 "Defeating Daesh's (ISIL) ideology will likely take a generation or more. But we can and we must rise to this challenge," said Allen speaking to the US-Islamic World Forum in Doha, Qatar on Wednesday.
The U.S. general believes that the fight would continue for several years despite "strategic momentum" against the terrorist group which become a 'global threat' during last year.
Indeed, this statement means that the United States recognizes its fail in war against militants of Islamic State. The US and some of its allies have been conducting airstrikes against what they claim to be the ISIL targets in Iraq and Syria since last year. However, so-called 'US-led coalition against ISIS' ingores the opportunity of cooperation with Assad's government and has showed ow efficiency of its actions.