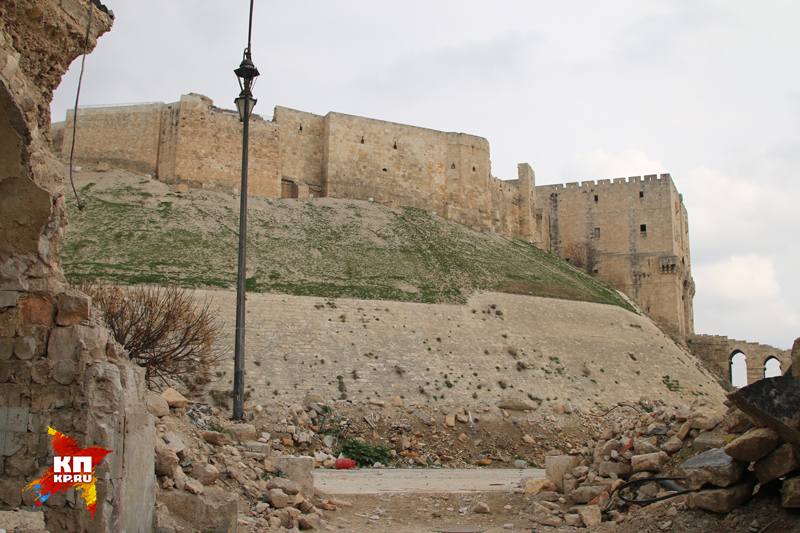 Original by Aleksandr Kots and Dmitriy Steshin published by Komsomolskaya Pravda; translation by J.Hawk
Our friends have told us that there is only one Eastern city with genuine ancient architecture, namely the Old City in Damascus. The ancient Baghdad was the first to be destroyed, then came the turn of the ancient Aleppo. Ironically, UNESCO listed the Old Aleppo with its 14-16th century buildings as a World Heritage site in 1986. Some Western organizations were helping the Syrian government incorporate these medieval quarters into a modern megapolis, while others would help those who launched a bloody war with the use of artillery in this open air museum.
The rumors that "russkies" are going to see the Old City preceded us at light speed, moving from outpost to outpost, from receiver to receiver. Adhering the pre-war tourist guide which we acquired at the hotel, we make our first stop at the Bab Al-Faraj square, next to the clock tower built by an Austrian architect in late 19th century. The magnificent colonial-style houses lining the square are all riddled with shrapnel. Pieces of plastic sheeting with UN markings are flying from some balconies. They serve a dual purpose. Snipers can't see light coming from inside of the apartment, and strangers can't look at women who live there. Streets radiate in all directions from the square. They stretch all the way to the horizon, though it's not recommended to stand in the middle of them. It's better to press one's body against the wall.
We ask a militiaman:
–Was the last shelling long ago?
–Yes, long ago–he replies without any bravado or posturing. It's been two days since we got mortar fire.
The clock tower is open, which is unheard of. We enter through a low door and stumble over a pile of unexploded 120mm mortar bombs. The homemade bombs often fail to explode. Some are painted a cheerful bright blue color, the same that's used to paint fences, others are rusty-red. Any fired but unexploded munition is potentially dangerous, and military instructions recommend such munitions should be destroyed on the spot by detonation. But Aleppo has given sappers plenty of other things to worry about.
We climb a narrow spiral staircase, instinctively expecting shouts of "Forbidden!" or "Buy tickets!" But instead we see an elderly militiaman join us as we indulge in taking photos of the shattered city quarters. He pushes us away from the windows and toward dark corners, explaining his actions with easily understood gestures: two fingers pointing toward the eyes, and then toward the shattered window. He bends the index finger and says "Bakh!" The top of the tower and the window frames are all pock-marked with bullets, with stained glass crackling under out feet.
The Russian trace
 The first and relatively new quarters of the Old City are totally covered by Syrian state symbols. For a number of reasons. First of all, that's how one demonstrates loyalty to Syria. Secondly, during fighting in these crazy labyrinths whose twists and turns demolish everything we have learned about geometry, they made it easier to establish one's location.  It's immediately obvious which side of the front line you are on. We're advised not to go further on our own. We await our guide. In the meantime we photograph signs in Russian, and there are many of them: "Underwear", "Shoe repair"… A shrapnel-damaged Pegasus stands still in a building without a roof, ancient arcs, tall and airy and covered with polished yellowish marble are poking out from under collapsed stuccoes. The ancient arcs have survived, while the comparably modern roofs and stuccoes have not…
 Right next to the Pegasus there's an inside-out gas cylinder with welded tail-fins. This is the militants' favorite munition which has terrific destructive power and almost no accuracy whatsoever. These cylinders are launched from worn out tank gun barrels or improvised mountings in the enemy's general direction. But for the people who started a war in a museum that makes no difference, what's more, in accordance with their world view all of these works of art must be destroyed because they are examples of forbidden paganism.
Our guide turns out to be a girl from the militia. She's named Roza, last name Asad, she's from Latakia and has been fighting here for three years. Roza is a sapper and has the local labyrinths memorized. Soldiers stationed at the city block where we were biding our time tell Roza with total seriousness, without smiling:
–Roza, these are Russians, our brothers! Keep them safe!
And during our trip Roza would tell us when we needed to hung the walls and where to bend down and run. When we were 30 meters from the militants and when only 10…
We stop for a few seconds on Aleppo's most beautiful square, the Seven Fountains Square. Then we dive behind the anti-sniper sheets and shields. A pack of purebred feral cats scatters from under our feet. We are struck by waves of smells of urban warfare. The centuries-old stucco cracked by bullets smells like an old, dusty library and disheveled old women. But the main components of this complex aroma are smokeless gunpowder and human waste.
A city which is no more
Roza dives into an obscure alley in which a young donkey could not pass a starved dervish. We find ourselves among the endless rows of an ancient Eastern bazaar. The booths were either burned down to cinders or looted clean. The pile of mannequins resembles a morgue after a natural catastrophe. Some of the mannequins are dressed and their sight alone makes one nauseous–one can almost smell the corpses.  The market is completely burned out, all that remains are the walls and soot as thick as a finger…In one of the Aleppo-Suk, Aleppo bazaar corridors, Roza brings me to a tiny barred window. Behind it is a tomb covered with green, gold-embroidered rugs. The marble sarcophagus contains the remains of a Muslim holy man whose name translates as Burning Ember. A mystical coincidence. Roza quietly tells us:
Everything here burned for a week. The gallery was under fire, the militants tried to use it to get into the city. Even the sandbags at the machine-gun next were melting from the heat. But the tomb was untouched, even though sparks were flying here like tracer bullets.
We follow Roza out of this tunnel into the light, toward the Citadel. This is the city's heart, which began to beat in the 10th century. The Old City appeared only in the 14th. We sit behind a barricade made of sand, rocks, refrigerators, and baroque-style chairs and look at the fortress. Judging by the reflections from binoculars, the fortress is looking at us. It still contains a garrison of soldiers and militamen. It is supplied using a system of ancient and modern underground passages. One of them begins right at our feet. There's nothing around except an endless field of concrete and stone piles as far as the eye can see.
Roza says that the Citadel saved the city. If it fell, Aleppo would have had to be abandoned. Since it occupies a commanding height, it can dominate all major streets with fire. But the fortress held out, and now it is definitely not going to fall. Everything has changed.
The silence which has been surrounding us for three hours is the main confirmation of what our uniformed guide told us. The militants no longer have the means, the forces, to attack. Their supply routes have been cut. Everyone is waiting for the end. A happy end.
We return by ancient alleys. Destroyed mosques, shattered ancient facades, the helplessly hanging carved balconies. The Old City which survived a dozen wars over the centuries does not have a single undamaged building left. And here's an interesting detail, which speaks volumes: at every checkpoint, soldiers were trying to clean up in the midst of this hopeless chaos.