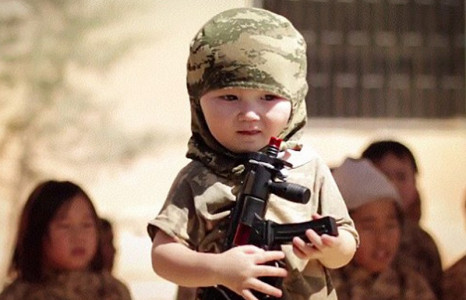 The Islamist rebels of Jabhat Al-Nusra, Harakat Ahrar Al-Sham, the Free Syrian Army (FSA) and Harakat Nouriddeen Al-Zinki have started to use children as soldiers in their fight against the Syrian government forces inside the Aleppo Governorate.
 The latest child soldier who was killed in northern Aleppo was Mohammad Qassem.
Qassem was reportedly killed at the battle of Rityan this month when the government forces overran the Islamist rebel defenses.
 Some of the children who were too young and unable to fire the automatic rifles were sent to the battle against the Syrian government forces and their allies in northern Syria. 
 According to local sources, there is a huge number of strikes in which children were being deployed by the Islamist militants to help in attacks in Aleppo. But exact figures are still unknown.
 On Thursday Russian Defense Ministry spokesman Maj. Gen. Igor Konashenkov reported militants from the Jabhat al-Nusra and Harakat Ahrar ash-Sham terrorist groups are preparing a group of teenagers as suicide bombers to commit terrorist acts in the country.
 Earlier, the Istanbul Anti-Terror Directorate has arrested dozens of ISIS militants, among them 24 were under the age of 18. All of them were being trained to operate in Syria and Iraq as Islamic State's fighters.
Syrian terrorists training young suicide bombers