The Syrian Arab Army (SAA) forces supported by Russian warplanes have been taking advantage against ISIS militants. Syrian terrorists weren't ready to face up a real War on Terror. However, the hard part hasn't even started.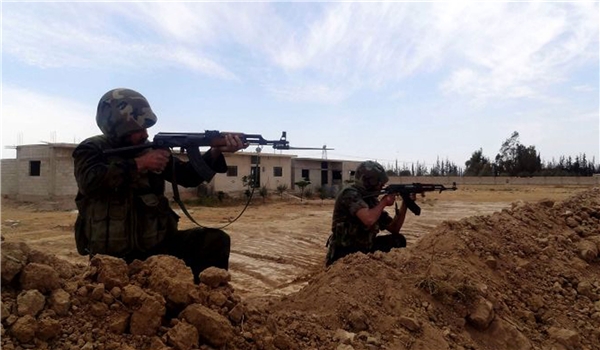 According to the pro-government sources, tens of terrorists were killed and dozens injured. Number of terrorists' vehicles equipped with 23mm machine guns were destroyed near Deir Ezzur military airport.
Separately, ISIS forces attempted to attack the al-Taym oilfield in Deir Ezzur, but they were stopped at the Syrian military post in the area.
Hard clashes between the Syrian forces and ISIS militants have been reportedly going in military the Sweida governance. The SAA operations on ISIL positions in the province resulted in the killing and wounding of scores of the militants.
The pro-government forces successfully advanced on the ISIS positions near the villages of al-Qasr and Rajm al-Dawleh in Sweida province. There are many casualities among terrorists.
According to reports, the Hasaka Govrnate will become possible aim of militant's attacks in the nearest future. Earlier, a large number of the ISIL militants have fled from Hasaka to Turkey. So, they could easily concentrate their forces at the border between Syria and Turkey for future offensive actions.
Arab media reports that the ISIS terrorists lost morale and fleet after the Russian airstrikes in the Syrian governorate of Raqqa. Reports argue that militants and their families escaped form Tal a-Saman villages in the Northern parts of Raqqa. However, it's early to make any conclusions. All sides' media outlets disort situation for their own benefit.
The Russian warplanes targeted the ISIS-controled Tabaqa airbase in the Raqqa Governorate destroying the military barracks. The militants sustained considerable damage as a result of the Russian airstrikes on the Tabaqa airbase.
In addition to airstrikes inside Tabaqa, the Russian jets air striked the ISIS positions at the Al-'Ajrawi Farms. The militants' weapons supply depot was located there.
Separately, the Russian Air Forces destroyed targeted ISIS units, military hardware and fuel depots around the town of Quaryatayn in the Homs governotare.
Quaryatayn has a strategic importance for the Syrian government. It links Palmyra and the Eastern parts of Qalamoun around the city of Damascus. It's located in 85 km from the city of Homs and in 160 km from the city of Palmyra.
At the moment, the support of the Russian Aerospace Defence Forces (VKO) gave the Syria's government forces advantage on the terrorist groups at the frontline. The Syrian Arab Army ad its allies have gained momentum and have been advancing at a number of sectors. However, the hard part even hasn't started. Since its start, the Russian military operation was focused on the destroying of  th explored terrorists' fortified objects. If (or when) the Syrian forces start to strom towns, the VKO will face serious problems – warplanes have a low effectivity in this case.