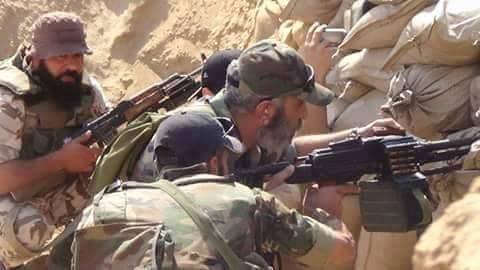 AlMasdarNews reports: The Syrian Arab Army's 137th Artillery Brigade of the 17th Reserve Division – backed by the National Defense Forces (NDF) and Hashd Al-Sha'abi (Iraqi paramilitary) – launched a counter-attack at the Panorama checkpoint on Wednesday night in order to recapture the aforementioned site and the Armenian Cemetery from the Islamic State of Iraq and Al-Sham (ISIS) terrorists.
So far, the Syrian Arab Army's 137th Brigade and their allies have recovered most of the territory surrounding the Panorama Checkpoint; however, they have not liberated this site from the Islamic State forces just yet.
ISIS was able to capture these sites earlier this week, when they launched a new assault from the oil rich town of Al-Shoula.
If the Syrian Armed Forces are unable to recover these sites from the Islamic State terrorists, they will be in serious trouble because of the Panorama Checkpoint's proximity to the 137th Brigade Headquarters and the Firat University campus.