Originally published on ZeroHedge
Update (1147 ET): A reporter via local news WTVA has recorded a video of the crashed plane in a field in Northeast Mississippi.
Axios reported that the plane went down, and the subject is in custody, according to the Benton County Sheriff's Office.
* * *
Update (1120ET): NPR and PBS reporter Ian Saint said the plane flying over Northeast Mississippi is piloted by Cory Patterson.
Northeast Mississippi Daily Journal has also confirmed that "multiple law enforcement, airport, and local authorities have identified the subject as Cory Patterson of Shannon."
An alleged Facebook post from Patterson said:
"Sorry everyone. Never actually wanted to hurt anyone. I love my parents and sister this isn't your fault. Goodbye."

Flight track data shows Patterson is still flying (as of 1112 ET) in the northern part of the state.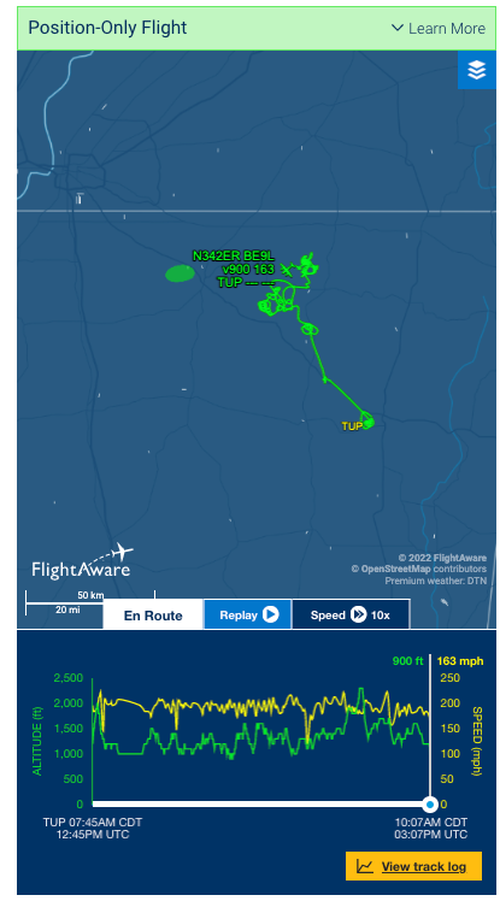 "All citizens should be on alert and aware of updates from the Tupelo Police Department," Gov. Tate Reeves tweeted earlier.
* * *
A plane has been circling a Northeast Mississippi town since early morning. The pilot is threatening to intentionally crash into a Wal-Mart store.
According to local news WTVA, the Tupelo Police Department received reports about a pilot of an airplane (possibly King Air type) circling above Tupelo. The pilot contacted 911 and threatened to crash the plane into a Wal-Mart on West Main.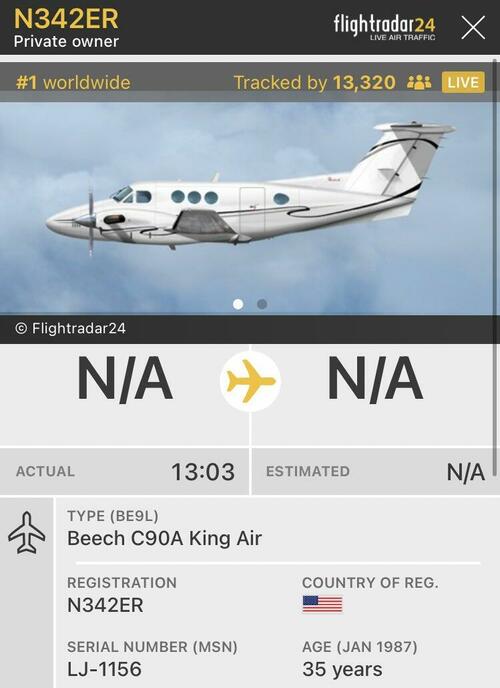 "TPD has worked with Wal-Mart West and Dodges on West Main to evacuate the stores and disperse people as much as practical. TPD also has been able to begin talking with the pilot directly," WTVA said.
Flight data via FlightAware shows the plane's current position (as of 0949 ET).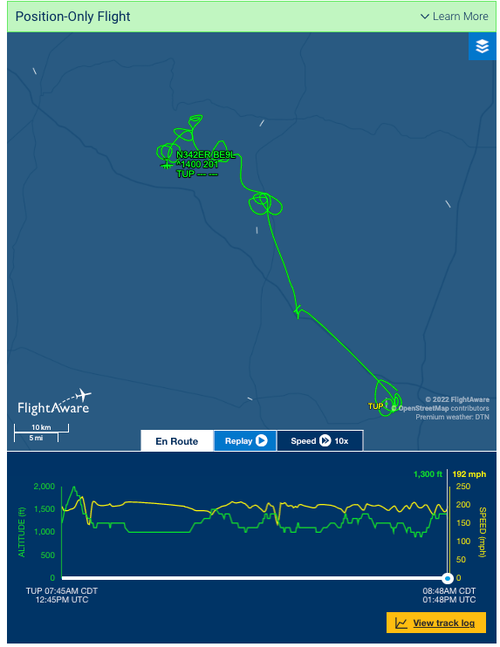 Video of the plane has surfaced on social media.
"The pilot of the hijacked private plane from Tupelo is making his way closer to MEM airspace & rain moving in. At some point he's going to get in the way of commercial aircraft arriving/departing there. He's been around 1,000-1,500 ft. Someone is going to have to make a call…," one Twitter user said.
Mississippi Gov. Tate Reeves said law enforcement and emergency managers are "closely tracking this dangerous situation."
*Developing
MORE ON THE TOPIC: