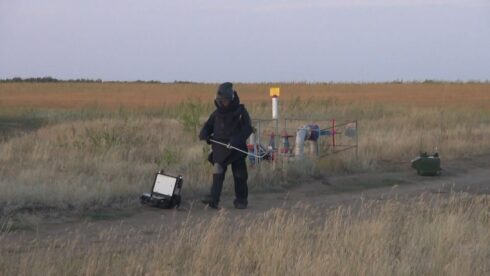 On August 15, officers of the Federal Security Service of Russia (FSB) prevented a terrorist attack on an oil and gas complex in the Russian Volgograd Oblast. Two Russian citizens who attempted to blow up an oil pipeline were killed during the security operation.
During the operation, the FSB officers seized an improvised explosive device and two traumatic guns loaded with ammunition.
"The Federal Security Service of the Russian Federation prevented an attempt by Ukrainian special services to prepare a sabotage and terrorist act in Volgograd Region, at a facility of the oil and gas complex, as a result of a set of operational and investigative measures," the Center for Public Relations of the special service reported.
The saboteurs were members of the right-wing radical group "Restrukt," which was founded by the now deceased nationalist Maxim Martsinkevich, nicknamed "Tesak".  According to the Russian counterintelligence services, the failed attack was planned under the control of the Ukrainian special services. Other members of the "Restruct" were also involved. They include Russian citizen Andrei Chuenkov, who is now in Ukraine and is involved in combat operations against the Russian military in the ranks of the Urahan battalion, and Yuri Ionov, a member of the Azov nationalist battalion.
The FSB has already brought the case regarding the terrorist activities of these people and declared them on the federal wanted list.
MORE ON THE TOPIC: