Executive Summary
The events around Syria and related Russian exercises have made this a de-facto airpower week. Russian combat aircraft have been deployed (at least temporarily) to bases in Syria and their overflight has been recorded by a number of jihadists in ISIS and al-Nusra controlled parts of Syria.  The recognition of the importance of airpower in modern wars is also reflected by ongoing procurement and modernization programs: the T-50 is nearing its official acceptance, and the Su-30SM (which provided fighter cover to the Russian airlift to Syria and which is enjoying continued export success) is to receive electronic systems developed for the T-50.
Russian export successes also include a large contract for Ka-52 aircraft with Egypt, which just recently signed a contract to buy the Mistral ships originally built for Russia. But will Egypt actually operate these ships, or is it merely a "middleman" in their eventual delivery to Russia???
Strategic Forces
1. Yoshkar-Ola–based ICBM division exercise
Location: Yoshkar-Ola
The exercise simulates operations of an mobile ICBM division under conditions of active enemy countermeasures, including special operations raids and air attacks. Participating forces also include air units equipped with MiG-31 strategic interceptors.
Ground/Airborne Forces
2. Western Military District concludes two-month artillery training session
Location: Luga, Leningrad Region
The training camp involved artillery units from formations based in the Western Military District, and placed heavy emphasis on live-fire training.
3. Motorized Rifle Battlegroup training exercise
Location: Alabino
The exercise involves a motorized rifle battalion equipped with BTR-82AM wheeled IFVs from an unspecified formation based in the vicinity of Moscow, reinforced by a T-90A tank company and a battalion of 2S19 152mm self-propelled howitzers, as well as a reconnaissance unit with Tigr armored cars. The exercise includes defense against enemy raiding groups and air attacks, traversing contaminated areas, surrounding and engaging enemy unlawful armed formations, and fighting in built-up areas.
Air/Air Defense/Space Forces
4. T-50 Fighter Enters Final Phase of Tests
Location: Akhtubinsk
This is an important milestone in the fighter's development. Once these tests are completed, the plane will receive an official "Su-**" designation and will be accepted into service. The first series-produced fighters are expected to be delivered to fighter regiments already in 2016.
5. Kuril Islands Air Defense Upgrade
Location: Kuril Islands
Air defense units tasked with the islands' defense received Tor-2MU systems capable of intercepting cruise missiles and as well as smaller guided munitions.
Location: Plesetsk
The Rokot was launched by a Space Forces launch crew, and delivered several military satellites to orbit.
7. Yak-130 to be developed into a strike drone
Location: Moscow
The Yak-130 is a highly adaptable aircraft thanks to its software-driven control systems, which can be modified to allow the plane's pilotless operation. The conversion would transform the Yak-130 into a strike drone with relatively few modifications to the plane itself.
8. Tu-160 cruise missile launches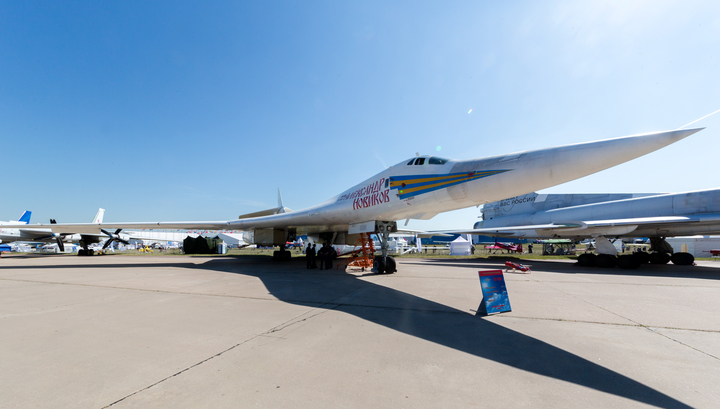 Locations: Engels, Pemboy (Komi)
An unspecified number of Tu-160 strategic bombers launched a total of 6 cruise missiles after conducting an 8-hour training flight. The missiles struck simulated targets at the Pemboy range.
9. Su-30SM to be modernized using technologies developed for the T-50
Location: Moscow
The modernization will cover nearly all of the on-board electronic systems of the multi-role fighter. It will also be available for the export variants of the Su-30, which is a highly popular item among foreign countries.
10. Fighter exercise over Sea of Japan
Location: Uglovaya Air Base
Su-27, Su-30, and Su-35 fighters performed a live-fire aerial interception exercise over the Sea of Japan.
11. Buk-M3 to enter series production
Locations: Zhukovskiy, Novosibirsk
The Buk-M3 is the latest variant of the well-known and highly effective Buk medium-range air-defense system. The latest modification has improved range and ability to engage low-observable targets under conditions of electronic jamming.
Naval Forces
12. Northern Fleet Amphibious Operation on Kotelnyy Island
Location: Kotelnyy Island; Murmansk
The Northern Fleet's Arctic Brigade subunits performed an amphibious assault exercise on the Kotelnyy Island, which is located several thousand kilometers away from its permanent base. The exercise aims at establishing procedures and skills necessary for the brigade to operate at long distances from its bases, and to test specialized equipment, including the snowmobiles pictured above.
13. Baltic Fleet in Union Shield-2015 Exercise
Locations: Kaliningrad, St. Petersburg
The entire range of Baltic Fleet's assets, including missile corvettes, anti-submarine corvettes, minesweepers, naval aircraft, and amphibious assault hovercraft with naval infantry, were used in the six-day exercise.
14. Admiral Gorshkov frigate on the way to Northern Fleet
Locations: Kaliningrad; Murmansk.
Admiral Gorshkov is the lead ship of the most advanced surface ship under construction for the Russian Navy. A total of 6 are planned; all will be assigned to the Northern Fleet.
International
15. Russian aircraft at Latakia
Location: Latakia
A variety of media outlets published open-source satellite images showing Su-30SM, Su-24, and Su-25 aircraft at the Latakia airbase in Syria. It is not known whether these aircraft will be based there permanently and, if so, whether they'll be operated by Russian or Syrian pilots. The Su-30SM were most likely used to escort transport aircraft delivering heavy equipment for the Syrian military. The Su-24 and Su-25 bombers and attack aircraft, on the other hand, would almost certainly prove very effective weapons against the Islamic State.
Islamist militants have filmed a video of an Il-76 aerial tanker and four Su-24s over Homs. The presence of Russian aircraft in Syria's skies seems to have made quite an impression on the Islamists.
16. Russia "would consider" a request to launch a ground operation in Syria
While at the moment no regular Russian formations are engaged in ground fighting against the Islamic State, Dmitriy Peskov told journalists that Russia would evaluate such a scenario if the government of Syria requested it. Which suggests the government of Syria has so far not made such a request.
17. Israel-Russia Coordinating Center
The two countries have established a center to ensure their air operations in the region do not lead to misunderstandings and incidents.
18. Venezuela interested in buying 12 Russian fighters
Location: Komsomolsk-na-Amure
The aircraft in question are Su-30MKI, which has become one of Russia's best-sellers.
19. Egypt signs contract for 50 Ka-52 helicopters
Location: Moscow
The helicopters could be of the naval Ka-52K variant developed for the Mistral-class ships which Egypt bought from France the same week as it signed the Ka-52K contract. Which begs the question: does Egypt actually plan to operate TWO large ships of this class, which are far larger than anything the Egyptian Navy ever operated, or will the Mistrals find their way to Russia by way of Egypt? It may well be that the Ka-52 contract is part of Russia's reward to Egypt for playing the role of the middleman in the deal.