Compiled and analyzed by J.Hawk exclusively for SouthFront
Executive Summary
The dominating theme this week is the Russian operation in support of the legitimate Syrian government, the preparations for which have been ongoing for a number of weeks in the form of a variety of military exercises held in the Central Military District which we have reported in previous editions of this feature. While the airstrikes are the most visible aspect of the Russian operation, arguably the most important one is the Russian military's effort to assemble a viable fighting force out of the combination of Syrian military formations, Iraqi Shia militias, and even manpower contributed by Iran in the form of its Revolutionary Guards.  Russia's military "secret weapons" include its mastery of operational art and a staff culture that is second to none (qualities which are not at all appreciated in the West, which still likes to think in terms of the "Russian steamroller"), which could very well turn the tide against the Islamic State, the al-Nusra, and other "moderate rebels." Both the Central and Southern Military Districts appear to be contributing assets to the Syria mission.
Russia's other "secret weapon" remains its ability to put the proverbial boots on the ground, and the Salyukov interview makes it clear that the Russian Ground Forces remain the focus of the country's military reform efforts. Not only will the size of the Ground Forces increase, its composition will include a number of units and formations staffed wholly by contract soldiers, whose proportion of the military manpower has been steadily increasing. Establishing such formations gives Russia's not only the ability to react more swiftly to negative developments on its own borders, but also to project power to the world's hot-spots, as the military usefulness of draftees is at its highest in missions involving the direct defense of the national territory.
Strategic Forces
1. Voronezh-M construction gets underway in Vorkuta
Location: Vorkuta
The Voronezh-M is a strategic early warning over-the-horizon radar, one of several currently under construction. The Vorkuta-based station will be completed in 2017.
Ground Forces/Airborne Forces
2. Ground Forces Personnel Trends
Location: Moscow
Colonel General Igor Salyukov gave an interview indicating that the Ground Forces' personnel strength will increase from the current 180 thousand to at least 271 thousand by 2021. In addition, the proportion of contract soldiers will increase. Right now about 40% of Ground Forces soldiers serve on multi-year enlistment contracts, as opposed to serving one-year mandatory term of service. By 2021, that proportion will increase to about 80%. Furthermore, each motorized rifle and tank brigade is in the process of forming rapid-response battalions fully staffed by contract soldiers, and in the future each district will have a number of rapid response brigades staffed by contract soldiers.
3.  Tank crew training center to be established at Nizhniy Tagil
Location: Nizhniy Tagil
Crews for the Armata family of vehicles, including the T-14 MBT, will be trained at a specially established camp at Nizhniy Tagil, where the vehicles are being manufactured. The vehicles will be crewed solely by professional, contract soldiers, rather than draftees.
4. Armored flamethrower exercise
Location: Volgograd
Southern Military District held a live-fire exercise for its heavy armored rocket flamethrower units, using the Buratino and Solntsepyok vehicles.
5. Special Operations Exercise
Location: Krasnodar
Southern Military District also held an exercise with the participation of 300 special operations soldiers on a training ground near Krasnodar. The exercise included parachute jumps, operations behind simulated enemy lines, freeing hostages, and defeating terrorist formations. Equipment used included the newest Mi-8AMTSh helicopters used by special operations aviation units.
Location: Astrakhan Region
The launch exercise by the Central Military District's missile brigade was remarkable in that the Iskander-M launch vehicle used a cruise missile of the Club/Kalibr family, rather than the usual ballistic missile associated with the system.
Location: Levyazhye Training Ground, Volgograd Region
The nuclear-biological-chemical defense brigade of the Southern Military District held an exercise on WMD reconnaissance and decontamination.
Location: Kostroma
One battalion from the Kostroma-based 98th Airborne Assault Division held a tactical exercise which included an emergency alert, a lengthy road march, a river crossing, and conducting a mobile defense with live-fire exercises.
9. Attack helicopters train in the Far East
Locations: Khabarovsk, Chita
Eastern Military District army aviation units stationed there use Mi-24, Ka-52, and Mi-8AMTSh helicopters, which carried out 30 live-fire sorties in the course of the exercise.
10. Military police to be retrained
Locations: Sverdlovsk, Khabarovsk, Sertolovo (Leningrad Region)
Three of the four Military Districts are holding retraining sessions for the Military Police, which will eventually cover its entire staff. The new training focuses on maintaining order during operations involving Russian armed forces (presumably during peacekeeping and stability operations) through patrolling and providing site security, with heavy reliance on non-lethal weapons
Air Forces
11. Fifth-generation fighter to reach line units in 2017
Location: Akhtubinsk
The T-50 will complete its testing in 2016, after which a batch of fighters will be delivered to an operational conversion unit to train pilots, with combat squadrons receiving the fighters in 2017.
12. Western Military District air intercept exercise
Location: Kursk Region
The exercise employed 30 aircraft, with MiG-29SMT fighters simulating enemy aircraft crossing into Russia's airspace , and Su-27 fighters intercepting them and carrying out simulated missile launches.
Naval Forces
13. First Mig-29KR fighters received by the Navy
Location: Yeysk
The Russian MOD ordered a total of 24 new MiG-29 fighters in 2012, including 4 twin-seat trainers, for the Navy to form a carrier-based regiment to supplement the existing one using Su-33K aircraft. The aircraft arrived at the operational conversion unit based at Yeysk.
14. Pacific Fleet transitions to Il-38N
Elizovo, Nikolayevka
The Il-38N is a thoroughly modernized maritime patrol and anti-submarine aircraft which will eventually replace the currently used Il-38s used by the Naval Aviation.
15. Granit missile live-fire exercises
Location: Barents Sea (Northern Fleet), Avachinsk Bay (Pacific Fleet)
Three Project 949A cruise missile submarines, Voronezh and Smolensk (Northern Fleet) and Tver (Pacific Fleet, which operated jointly with the missile cruiser Varyag), conducted simultaneous and coordinated launches of Granit heavy anti-ship cruise missiles, in order to test both the missiles themselves but also the communications systems necessary to coordinate launches by multiple submerged submarines operating together and/or jointly with missile-carrying surface ships.
16. Unclear future of Project 1135.6 frigates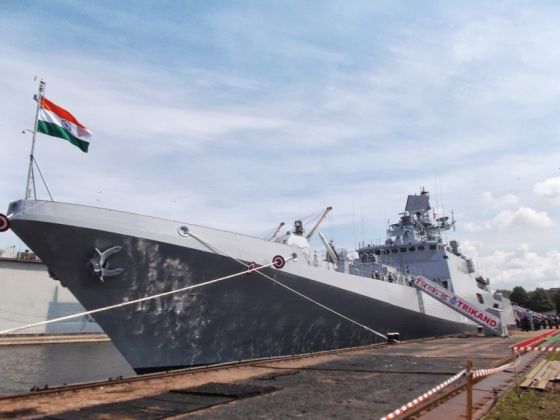 Location: Kaliningrad
The Russian Navy ordered six of these ships for the Black Sea Fleet. However, the design uses gas turbines produced at the Nikolayev plant in Ukraine, and only the first two or three ships of the class had their engines delivered before the deterioration of the Russia-Ukraine relations. While the ships could be completed using Russian-manufactured turbines, that is a time-consuming process which delays the completion process and blocks the use of construction slips at the shipyard. Another possibility is that the incomplete ships will be bought by India (whose navy already operates Project 1135 ships similar to the one pictured above), which will then procure the necessary engines either from Ukraine or another country.
17. Northern Fleet submarine exercise
Location: Barents Sea
Two submarines, nuclear-powered Nizhniy Novgorod and diesel-electric Magnitogorsk, launched a total of 8 torpedoes at hostile surface ships simulated by Northern Fleet's surface ships.
International
18. Russian airstrikes against Syrian extremists
At least 20 sorties were reported flown by Su-24M bombers, Su-25SM attack aircraft, and Mi-24 attack helicopters.
19. Russian naval build-up in Eastern Mediterranean
The Black Sea Fleet is mounting a major effort in the Eastern Mediterranean, deploying the Guards missile cruiser Moskva, equipped with, among other weapons, a powerful long-range air surveillance and defense system capable of maintaining coverage of much of Syria's airspace, several frigates, and a record number of sorties by amphibious assault ships of the "Syria Express" bringing vitally needed weapons and supplies to the Syrian government.
20. Il-20 aircraft reported deployed to Syria
There are unconfirmed reports that the Russian Federation aviation task force in Syria includes one Il-20 electronic surveillance aircraft used for target acquisition purposes.
21. Russian military coordinating its operations with Tehran and Baghdad
Location: Orenburg, Baghdad, Tehran, Damascus
It would appear that the Central Military District is playing the leading role in coordinating Russian military aid to the Syrian government, and the recent training exercises (including the large-scale Tsentr-2015) were, in effect, final preparations for the deployment to Syria. The Tu-154s are probably ferrying military advisors and staff officers from the Central Military District to assist the Syrian military in planning more effective ground operations against the Islamic State forces, with Russian air support.
22. Mozdok–Syria Tu-154 flights
Location: Mozdok
A number of Russian military-owned Tu-154 airliners have been spotted operating in the skies over the Middle East, including flights between Tehran, Bahgdad, and Damascus, and missions between Mozdok and Latakia. Not clear whether Mozdok's direct proximity to the Republic of Chechnya has any significance for Russia's military assistance to the Syrian government.
23. Russian paratroopers train in Belarus
Location: Losvido, Vitebsk Region
Units from the Pskov-based airborne assault division participated in the week-long exercise.
24. Russian peacekeepers participate in Armenian training exercise
Locations: Samara, Gyumri
A company of soldiers from a peacekeeping brigade based in Samara (Central Military District) arrived in Armenia to participate in the Unshakeable Friendship 2015 exercise.
25. Armenia-based units receive UAV systems
Location: Gyumri, Armenia
The 102nd Base in Gyumri is receiving the Navodchik-2 UAV control system capable of directing three types of UAVs currently in service in the Russian Ground Forces.
26. Battalion exercise in Abhkazia
Location: Nagvalou, Abkhazia
Forces deployed for the exercise included a motorized rifle battalion equipped with BTR-82A APCs reinforced by a T-90 tank company and other subunits.
27. Sixth submarine for Vietnam launched
Location: St. Petersburg
The Project 636 diesel-electric submarine was launched at the Admiralty Shipyard in St. Petersburg.