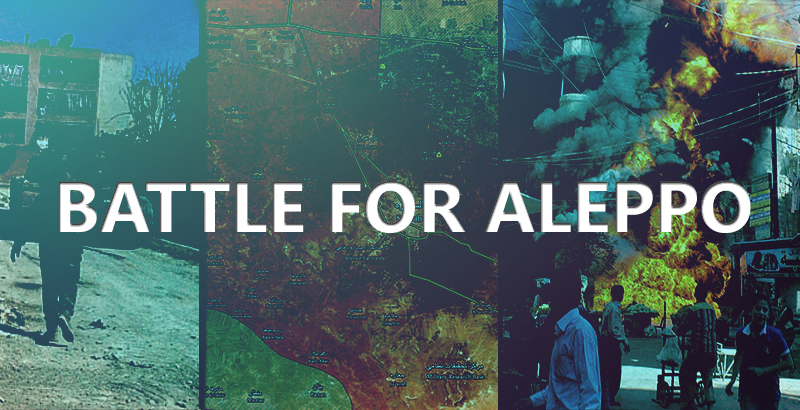 On October 12, reports appeared that the High Command of the Syrian Arab Army and militant groups in the city have started negotiations on allowing the militant groups' members a free passage from the eastern Aleppo pocket. In case of success, the army will set control of Bustan Al-Qasir Neighborhood. Nonetheless, Jabhat al-Nusra and Nour Eddine Al-Zinki, that are main striking forces of the Jaish al-Fatah operation room in Aleppo, refuse to negotiate with the government.
The militants' will to negotiate with the so-called "Assad regime" was reinforced by the constant military pressure from the Syrian army and its allies.
On October 13, in northern Aleppo, the Syrian army and Liwa al-Quds (a Palestininan pro-government militia) launched a military operation aimed to capture Talat Al-Bureij and Jabal Al-Zafit.
The government forces are also in control of the Owayjah Hill and the Asfar Hill (according to pro-government forces) northeast of the Jandoul Roundabout that allow to implement fire control of the nearby areas. If Ahrar al-Sham and Nour Eddine Al-Zinki are pushed to retreat from Talat Al-Bureij and Jabal Al-Zafit, the army and Liwa al-Quds will be able to start operations in the Haydariyah Neighborhood. The tactical goal will be to set control of the Ba'edin Roundabout.
In southern Aleppo, the army and Hezbollah have captured the strategic Sheikh Sa'eed hill in the Sheikh Sa'eed Neighborhood. Multiple operations across Aleppo exploit the joint militant forces' lack of reinforcements.
The recent gains of pro-government forces came amid reports about intense air strikes by the Russian Aerospace Forces. While the Russian Defense Ministry does not provide information about the numbers of made air strikes, local sources argue that Russian warplanes deliver 30-40 air strikes per day.
Next Saturday, Rusisa, the United States and local powers are set to discuss the military and political situation in Syria in order to find the so-called "peaceful solution" of the conflict. Most likely, the Russian-Syrian-Iranian alliance will not be ready to make some significant concessions to the "American partners".