Originally appeared at ZeroHedge
Update 730pm: Japanese defense have confirmed that the missile launch by North Korea was ballistic, while the Japan's government said North Korea's missile launches are a serious problem for the Japan and the international community, adding it will "gather and analyze information, and maintain alertness."
Shortly after, Japan's PM Suga said that North Korea had fired 2 ballistic missiles, calling the launch a threat to regional security and strongly condemning the launch.
* * *
Just days after North Korea was confirmed to have resumed test missile launches, when last weekend it fired two short-range missiles off its west coast, Kim Jong Un appears ready to test the resolve of Joe Biden.
Earlier today we reported that it was – belatedly – revealed late Tuesday that North Korea had fired two short-range cruise missiles off its west coast into the sea on Sunday morning, according to confirmation by South Korea's Joint Chiefs of Staff (JCS). The details were as follows: "Sunday morning, the 21st, [authorities] spotted two suspected cruise missiles in the Onchon, South Pyongan area," the military said, underscoring that it knew about the test in real-time. Though it's the first such missile test during the Biden administration, all sides appeared to downplay it, including the White House which dubbed it "normal activity". A senior administration official told the press, "We see this action in the category of normal activity."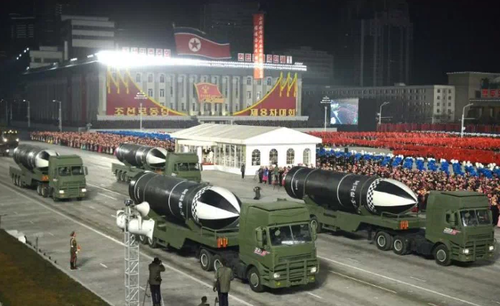 Describing the unusual scenario of the information not being made public about the 'mysterious test' ABC News writes:
Curiously, neither North Korea nor South Korea had acknowledged the firing of the two missiles immediately on Sunday as is routinely done by both countries. North Korea typically discloses launches to promote its technological advances, while South Korea provides quick updates to highlight their provocative nature.
It also could be that given the White House is busy ratcheting tensions with China and Russia via a series of sanctions – and even pre-announced cyberattacks – the US administration is content to look the other way for now and not open up yet another foreign policy row. Downplaying is precisely what the above-cited admin official sought to do, saying further, "North Korea has a familiar menu of provocations when it wants to send a message to a U.S. administration," but that "Experts rightly recognized what took place last weekend as falling on the low end of that spectrum," according to ABC.
President Biden himself appeared to laugh it off when asked by a reporter Wednesday: "Do you consider that to be a real provocation by North Korea?"
"No, according to the Defense Department, it's business as usual."

"There's no new wrinkle in what they did" 
When asked if it impacts diplomacy, Biden simply laughed at the question and walked away.
REPORTER: On North Korea: Do you consider that to be a real provocation by North Korea?

BIDEN: No. According to the Defense Department, it's business as usual. There's no new—there's no new wrinkle in what they did.

REPORTER: Will it affect diplomacy at all?

BIDEN: *Laughs* pic.twitter.com/sc1sHjhwZV

— JM Rieger (@RiegerReport) March 24, 2021
Incidentally, it was only a little over a week ago that Pyongyang had also issued its first direct threat against Washington since Biden entered office. The powerful sister of Kim Jong Un, Kim Yo Jong, warned the United States it must "refrain from causing a stink" if it desires to "sleep in peace" over the next four years.
"If it wants to sleep in peace for coming four years, it had better refrain from causing a stink at its first step," she was cited as saying in state media.
Well, just a few hours after he laughed about it, North Korea appears to have escalated once again it what is a clear test of Biden's willingness to engage with the communist regime, when Bloomberg and Reuters quoted the Japanese Coast Guard which said that a ballistic missile may have been fired from North Korea, and added that it had warned ships against "coming close to falling objects."
JAPAN COAST GUARD SAYS N.KOREA MAY HAVE FIRED BALLISTIC MISSILE
JAPANESE COAST GUARD WARNS SHIPS AGAINST COMING CLOSE TO FALLING OBJECTS AND CALLS ON THEM TO PROVIDE INFORMATION.
Korea's Yonhap confirmed, reporting that an unknown projectile had been fired into the East Sea (off the coast of the Korean penninsula), and adding that the missile did not enter Japanese territory.
(URGENT) N. Korea fires unidentified projectile into East Sea: JCS https://t.co/8VPuiULIL6

— Yonhap News Agency (@YonhapNews) March 24, 2021
It is not immediately clear if Joe Biden was woken up from his nap in response to the latest geopolitical development.
The world knows Biden is weak https://t.co/Z4CR62hLQz

— Comfortably Smug (@ComfortablySmug) March 24, 2021
Bloomberg adds its own two cents, writing that Asian defense-related stocks may move after news that North Korea fired a missile.
Japanese stocks including: Howa Machinery, Ishikawa Seisakusho, Hosoya Pyro-Engineering
South Korean stocks including: LIG Nex1, Hanwha Aerospace, Firstec
Also watch South Korea's so-called "peace stocks," or stocks that would benefit from better relations with the North: Hyundai Rotem, Hyundai Engineering, Hyundai Elevator
MORE ON THE TOPIC: