Originally appeared at ZeroHedge
One year after beating out rivals like Amazon for the coveted Pentagon "JEDI" contract, a $10 billion mandate to rebuild the Pentagon's cloud-computing infrastructure (despite a lawsuit from Amazon alleging unfair discrimination in the awarding of the contract), Microsoft has just won another major DoD contract, this one worth potentially more than 2x the JEDI contract.
Microsoft shares climbed on the news that the company had won a contract to build more than 120,000 custom HoloLens augmented-reality headsets for the US Army. The contract could be worth up to $21.88BN over a 10-year stretch.
Investors celebrated the news likely because, according to CNBC, the deal shows Microsoft can generate meaningful revenue from a "futuristic product" like the HoloLens, which involved years of research, and also lies beyond the company's core competency area – software and its Windows operating system.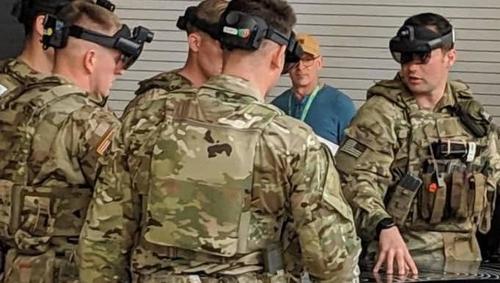 The mega-contract follows a much smaller contract worth $480MM Microsoft received to develop prototypes of the Integrated Visual Augmented System. The new contract is essentially an order to put that prototype into mass production.
Though it was widely panned when first release, the HoloLens (which costs $3,500) overlays a holographic interface over real-world environments, and allows users to interact using hand and voice gestures. For example, the headset can use thermal imaging to reveal enemy combatants hiding in the night.
It will also enable soldiers to fight and train using the same system.
"The IVAS headset, based on HoloLens and augmented by Microsoft Azure cloud services, delivers a platform that will keep soldiers safer and make them more effective," Alex Kipman, a technical fellow at Microsoft and the person who introduced the HoloLens in 2015, wrote in a blog post. "The program delivers enhanced situational awareness, enabling information sharing and decision-making in a variety of scenarios."
While Google parent Alphabet's employees do everything they can to stymie their employers' attempts to win lucrative contracts from the Department of Defense (GOOG's hyper-progressive employees have deemed working with the DoD "immoral", though they had little, if anything, to say about Google's efforts to break back into the Chinese market) Microsoft is apparently taking the opposite tack.
We wonder which approach shareholders will appreciate more? After all, the Pentagon probably could have ordered 120,000 souped-up Google Glass headsets just as easily.
MORE ON THE TOPIC: