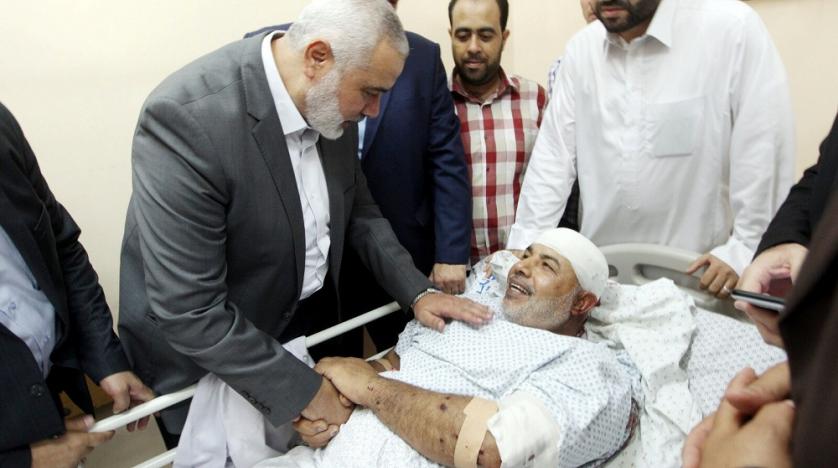 On October 27, the chief of the Palestinian Security Force in Gaza Strip, Tawfiq Abu Naim, survived an assassination attempt, according to Palestinian sources.
Abu Naim was moderately injured after an explosion hit his car in al-Nusairat camp in the center of Gaza city.
Hamas Movement Political Chief Ismail Haniyeh said that Israel was behind the assassination attempt. Moreover, during his visit to Abu Naim in in Shifa Hospital in Gaza city on October 28, Haniyeh promised to bring Israel to justice.
"The guilty ones behind will be reached by the Palestinian justice and we believe that the occupation and its supporters are to blame for this awful crime," Haniyeh said during his visit to Abu Naim.
Furthermore, Haniyeh called on Fatah Movement to speed up the ongoing Palestinian reconciliation process in the highlight of Abu Naim assassination attempt. Hamas Movement leadership likely sees the assassination attempt as an Israeli attempt to sabotage the Palestinian reconciliation efforts. Israel had openly criticized the reconciliation efforts between Hamas and Fatah previously.
"I ask my brothers in Fatah movement, and I ask Mahmoud Abbas specifically to accelerate the steps towards the Palestinian reconciliation so we could prevent any party who tries to sabotage this reconciliation and so we could strengthen the internal front of our people against any similar attempts. The Major General is fine, his health is excellent and his self-esteem is very high," Haniyeh said.
Abu Naim was jailed for 22 years by the Israeli authorities for his anti-Israel activates. However, in 2011 Abu Naim was released by the Israeli authorities as part of Gilad Shalit prisoner exchange deal.
Israeli sources said that Abu Naim conducted a strict security campaigning mainly against ISIS cells in the Gaza Strip lately. This suggests that Abu Naim might have been targeted by ISIS and, not Israel. However, ISIS has not claimed responsibility for it so far.