Few hours ago the ISIS terrorist group downed an Iraqi helicopter in western Mosul after targeting it with a rocket. The helicopter was downed over the forest area and its crewmen were killed on the spot.
Moment when #Iraq AF helicopter went down filmed from #ISIS side. #Mosul pic.twitter.com/Vgt6hhy35I

— Aldin ?? (@CT_operative) April 6, 2017
This morning, ISIS has launched two attacks in northern Baiji at the highway linking Haditha and Baiji utilizing 3 VBIEDs. ISIS claimed that 9 armored vehicles and 3 tanks belonging to the Iraqi Army had been destructed as a result of this attack. Two tanks were reportedly destroyed with ATGMs and over 39 Iraqi soldiers were killed as a result of this hit-and-run attack.
ISIS's media wing Amaq published photos (below) showing the targeting of Iraqi armored vehicles on one of the roadways east of Al-Rutba.
Sources close to the Popular Mobilization Units (PMU) declared that the PMU had repelled all ISIS attacks on Baiji killing 11 ISIS terrorists. 18 ISIS members were also killed in clashes at the highway.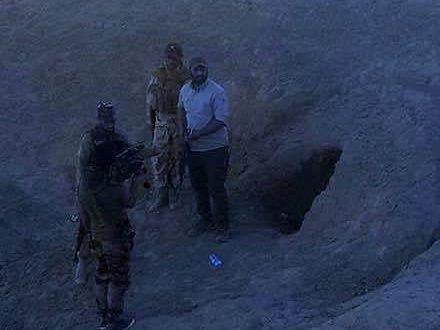 The PMU destroyed a collection of caves and tunnels belonging to ISIS militants in the Makhoul Mountain north of Salahiddeen.
Photos released by ISIS: