Originally appeared at ZeroHedge
Iran is currently in the midst of two-day naval drills in the Gulf of Oman which began Wednesday. Crucially also at a time of soaring tensions with the US and Israel, and with less than a week to go till the end of the Trump presidency which is stacked with Iran hawks led by Pompeo, Iran has fired cruise missiles as part of the provocative naval exercise.
"State TV showed footage of missiles being launched from both land units and ships at sea but didn't elaborate on their range or other details. In July, Iran said it test-fired cruise missiles with a range of some 280 kilometers (some 275 miles)," the Associated Press reports, citing Iran state media.
Iranian military spokesman Adm. Hamzeh Ali Kaviani announced that "Enemies should know that any violation and invasion of Iranian marine borders will be targeted by the cruise missiles from both coast and sea."
Iran's navy is also using the drills to showcase it's largest domestic-built military vessel ever:
The indigenously-made forward base ship IRIS Makran, which is said to be able to carry up to five helicopters, joined the fleet with another ship that is capable of firing missiles.

The 228-metre (748-foot) long warship, previously an oil tanker, has been repurposed to provide logistical support, carry out search and rescue missions, deploy special forces, replenish and transport supplies, offer medical assistance, and act as a base for fast boats.
The Iranian-made warship Makran: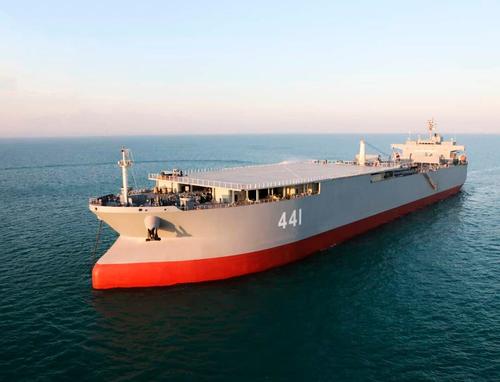 This latest cruise missile test is also no doubt a direct signal to Israel and the United States, given recent threats out of Tel Aviv that the Israeli military will mount preemptive strike if there's evidence the Islamic Republic is on the threshold of producing a nuclear warhead.
For example, The Times of Israel reported yesterday "one of the most forceful statements made by an Israeli official," namely Likud's Tzachi Hanegbi – a close ally of Prime Minister Benjamin Netanyahu – who "threatened that Israel could attack Iran's nuclear program if the United States rejoined the nuclear deal, as US President-elect Joe Biden has indicated he plans to do."
***
MORE ON THE TOPIC: