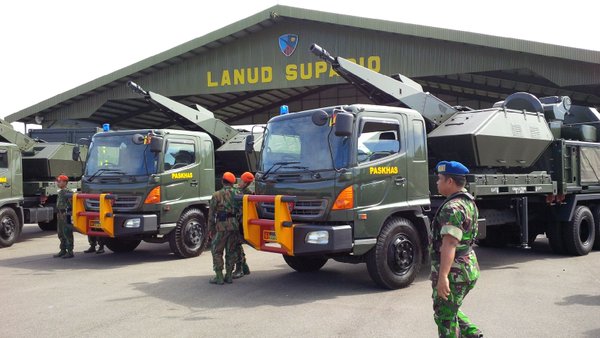 Indonesia is reportedly preparing to deploy 4 units of a special forces ground corps (the Korps Pasukan Khas) on  the largest of the Natuna Islands in the South China Sea.
The special forces will be equipped with Skyshield air defence systems and will be stationed in the Pulau Natuna Besar island.
We remember China deployed YJ-62 anti-ship missiles to the Woody Island of the South China Sea, recently.
Note from Wikipedia:
Skyshield Air-defence system is a modular, light weight, Short Range Air Defense (SHORAD) system developed by the Swiss corporation Oerlikon Contraves (now a subsidiary of Rheinmetall of Germany). The successor to the Skyguard defense system, Skyshield is intended to rapidly acquire and destroy threatening aircraft and missiles.

The weapons system itself consists of two 35 mm (1.38 inch) revolver cannons with a rate of fire of 1,000 rounds per minute, a fire control system made up of a sensor unit and a detached command post. The Skyshield can also use up to two surface-to-air missile 8-cell modules for an expanded air defense capability. The Skyshield is designed for traditional anti-aircraft roles in addition to defense against missiles (see anti-ballistic missile).