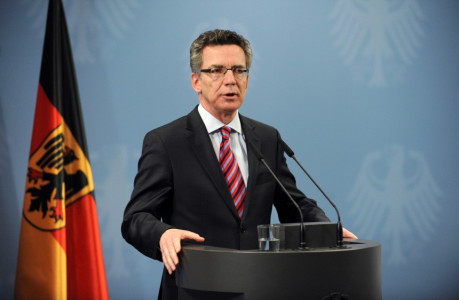 This article originally appeared at Politika translated by Stevo Marjanović exclusively for SouthFront
Although there are no interviews in which the President of the German Federal Office for the Protection of the Constitution (BfV) Hans Georg Masen is not assuring Germans that there is no reason to be afraid of terrorist attacks, the German public is increasingly concerned about the fact that hundreds of German citizens are members of ISIS, while some of them provide support from the territory of Germany.
The Munich daily newspaper "Süddeutsche Zeitung" and the two German regional public service VDR and NDR revealed in joint research that among German citizens who fight for ISIS in Syria, there are those who take part in the torture of prisoners. They have found out about this on the basis of testimony of former ISIS fighter Niels D, who went to war in Syria as a member of the notorious Salafist scene in the Lohberg suburb of town Dinslaken in the province of North Rhine Westphalia in western Germany. He was arrested in January while his trial on charges of participating in a terrorist organization will begin next year in Düsseldorf.
Niels has been in Syria for 13 months from October 2013 to November 2014. He spent eight months as a member of unit known as a "strike team" tasked to hunt for deserters and "deviants" in the ranks of ISIS. According to the "Süddeutsche Zeitung", these jihadists are always masked in public and they receive higher salaries and bonuses, including trophies looted from the Iraqi city of Mosul.
In his testimony Niels said that a number of Germans are still active in this unit, which the German security services described as "Department of Homeland Security" of Islamic State. Niels worked in the prison in the Syrian town of Manbij where this unit tortures prisoners, whether those prisoners are deserters, disobedient civilians or enemy combatants. They tortured them in order to extort from them confession of the alleged crimes. There is a "square for executions" in this town in northern Syria,  where jihadists carried out public executions of prisoners and, according to Neils, even one ISIS commander as an example to others.
In his testimony, Neils claimed he was not involved in the executions or torture, saying that he only worked as a security guard for informants and as a chef in the prison. However, as "Süddeutsche Zeitung" reports, police found in his mobile phone a photograph which shows how he points the gun at the back of the head of a prisoner. Neils at the end of 2014 returned to Germany, and shortly afterwards he was arrested. German secret service eavesdropped on him and discovered that he was a member ISIS because he boasted about this in front of other Islamists in the German city of Dinslaken.
As German Interior Minister Thomas de Maiziere recently pointed out, about hundred German citizens has been killed so far fighting for ISIS, and according to the German secret services, around 200 German jihadists have returned from Syria to Germany, while at least about 800 Germans went to the Syrian battlefield.
He expects that the number of German citizens that are going to Syria will be higher, but probably not as large as last year. He points out that ISIS, Syria and Iraq are still attractive to young people from Germany who want to become jihadists.
Hans Georg Masen stated on several occasions during the past weeks that the radical Islamists are trying to take advantage of the refugee crisis, warning that Salafists are trying to recruit Sunni Muslims among the refugees in Germany. However, he assures that there is no reason to fear that ISIS may try to send their terrorists disguised as refugees to Germany because, he says, the service headed by (BfV) and the German Federal Intelligence Service (BND) traced a multitude of clues and so far have not found any signs that something like this is going on.
However, there are ISIS sympathizers on German soil. For example, there was a trial the day before yesterday in Cologne against the eight young men who robbed churches and schools across Germany to collect money and finance ISIS day before. According to the prosecutor Nadia Guderman, they were stealing from churches crosses and other valuables that are used during church services. She says that they were stealing laptops, money and credit cards from students at schools. They have sent all the money to jihadists that are fighting in Syria's civil war.
During the break-ins for the last four years, they have stolen goods worth about 19,000 euros, thereby inflicting a serious damage to the schools and churches they have robbed. How much of that money actually went to jihadists in Syria, as pointed out by the prosecutor, will not be considered in this process.
Among those charged is a 20 year-old Moroccan, who the prosecutor described as a gang leader and who put the video on "YouTube" in which he (in German) calls Muslims to fight for ISIS. The three members of this marauding group will be tried for the crime of supporting a terrorist organization at the same time.