Originally appeared at MoonOfAlabama
A lame as ever Tom Friedman joins the Putin bashing circus and, as a hundred columnists before him, connects Putin to Trump to hit his real target. But as also characteristically for him, Friedman demonstrates a lack the knowledge and understanding that few others are able to reach. Thus, Putin is bad, because:
A 2015 report in The Moscow Times noted that "life expectancy in Russia has been growing several times slower than in the rest of the world for the past 20 years, according to a research by the U.S.-based Institute for Health Metrics and Evaluation." That coincides almost exactly with Putin's leadership of the country. The article explained, "During the period of 1990-2013 [life expectancy] only grew by 1.8 years in Russia, while the global average number increased by 6.2 years, pushing Russia out of the top 100 countries with the highest life expectancy and placing it in 108th position — between Iraq and North Korea."
Here is graph with the life expectancy in Russia.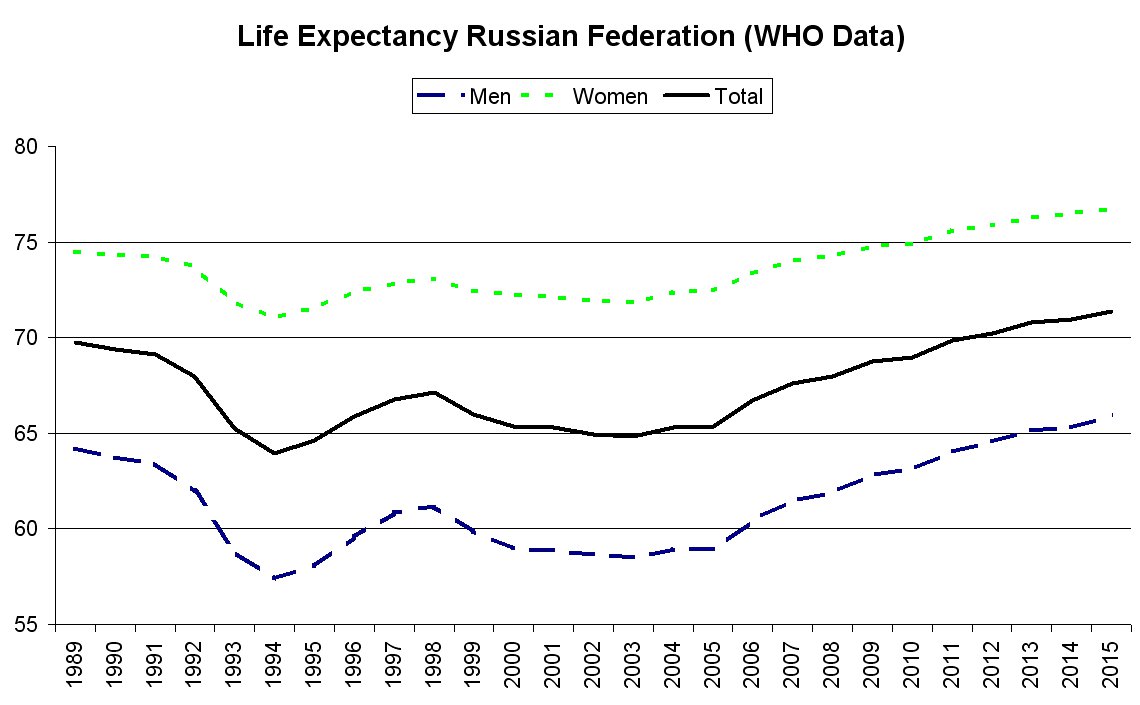 One can obviously distinguish two periods with very different trends: In the 1990s the Harvard boys taught Russia a lesson in laissez-faire robbery. Life expectancy fell from 63.76 years for men in 1990 to 58.53 in the year 2003. It started to recover in 2005 and went up since. In 2010 life expectancy for men was back at 63.09 and in 2015 it reached 65.92.
How much of that was Putin's fault?
Putin became acting President of the Russian Federation on December 31 1999. Most of the 1990s he was First Deputy Chairman of the Government of Saint Petersburg – hardly the position that made him responsible for the health of the Russian nation. Putin was not at all responsible when life expectancy fell in Russia. But he was responsible when it again started to grow and is responsible for the success since.
In 2015 Russia ranked 110 in the WHO country list of life expectancy. Hardly great, but much better than 15 years earlier when Putin became responsible for the issue. During Putin's fifteen years in the top jobs life expectancy in Russia increased by some 7 years, nearly 12%.
Increasing the life expectancy of a nation is hardly the sign of a "strong" leader (whatever that may be). But it is a sign of a reasonably well led and working administration of a country.
Don't expect such in the U.S. if Tom Friedman's favorite candidate, Hillary Clinton, wins the presidency. The level of knowledge and decency of Friedman and Clinton are about par. As someone who knows personal failure, one Colin Powell, so nicely expressed:
"Everything HRC touches she kind of screws up with hubris."
Just see the (Friedman) example above. I for one would choose a Putin over a Hillary Clinton any time.