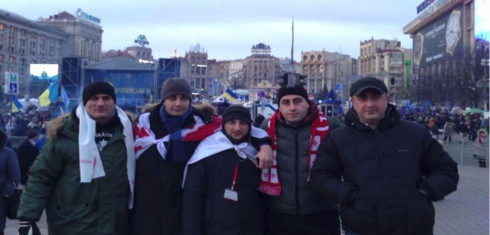 The current Ukrainian government proves thesis that Ukrainians are not able to hold key government positions. In late 2014, the US citizen Natalia Yaresko was appointed as the Minister of Finance. Citizen of Lithuania Aivaras Abramovichus was appointed as the Minister of Economic Development and Trade. Minister of Health became a citizen of Georgia, Alexander Kvitashvili. Ekaterina Zguladze holds the office of Ukraine's First Deputy Interior Minister and the office of the Ukraine's First Deputy Justice Minister holds Gia Getsadze. Both of them worked in the Georgian government under Saakashvili.
Newly appointed governor of Ukraine's Odessa region and "Ukrainian patriot" has become Mikhail Saakashvili – the former president of Georgia, is actively wanted by prosecutors at home.
Ukrainian authorities believe that Economy of the country must be controlled by the foreigners. Newly "democratized" Ukrainian nation is not ready enough to manage own Economy as well as Health, Internal Affairs and Foreign Policy.
President of Ukraine Petro Poroshenko invited military instructors and advisers from the US and Canada. American intelligence agencies occupy an entire floor in the main building of Security Service of Ukraine. They even don't hesitate to hang an American flag on the main building of the Ukrainian Security Service.
Foreign Ukraine. What a shame!