Written by Emma Fiala; Originally appeared at her blog
Early Saturday morning, an FBI agent accidentally shot a man while dancing in a crowded Denver nightclub.
According to video of the incident, nightclub patrons appeared to be enjoying themselves around 12:45 am at Mile High Spirits Distillery and Tasting Bar, until a dancing off-duty FBI agent dropped his firearm mid-back flip and shot an unsuspecting patron after picking it up again.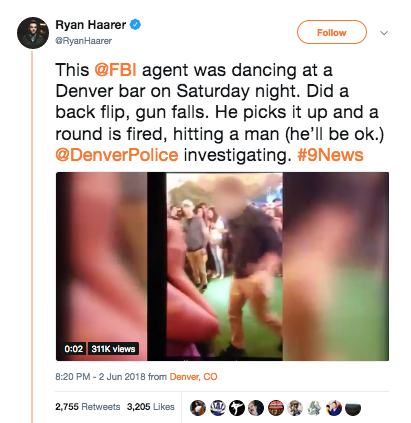 As seen in the video, the agent raised both hands while walking away as if to say, "My bad. No harm, no foul." Except there was harm – the off duty agent just shot a man in the leg and didn't seem even a little bit concerned about it.
The adult male victim was taken to a local hospital, in good condition, according to Denver police spokesman Sonny Jackson.
It is unclear if the agent had been drinking. Authorities are awaiting results of a blood test to determine if alcohol was a factor in the agent's poor decision.
The agent was interviewed by police at Denver Police Headquarters, but not arrested. He was then released to an FBI supervisor. The shooting is being investigated by the Denver Police Homicide Unit and any potential charges will be determined by the Denver District Attorney's Office.
"It appears an off-duty Federal Bureau of Investigations (FBI) agent was dancing at a night club when his firearm became dislodged from its waistband holster and fell onto the floor. When the agent retrieved his handgun an unintended discharge occurred, another patron was struck by a bullet in the lower leg," local police said in a statement.
The FBI declined to comment on the unsavory actions of their agent.