Russia and China will help its neighbors to tighten their security belts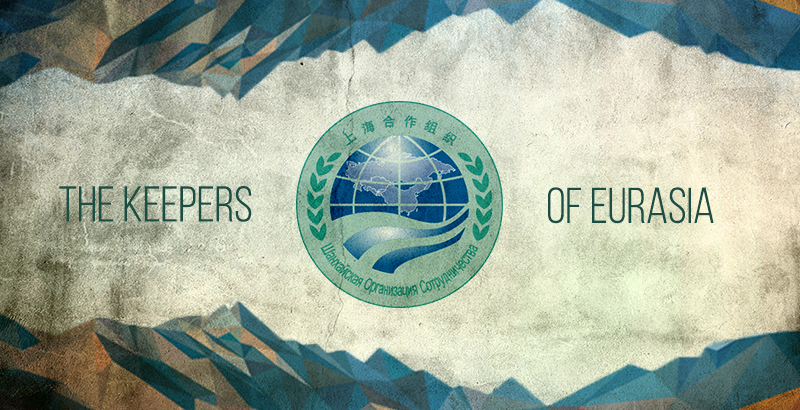 Originally appeared at VPK, translated by Mona Lita exclusively for SouthFront
The domestic expert community comes from the fact that a counteraction of various threats and challenges is only possible when Russia maintains its status as a great empire, which it has been for centuries. But the existing polar world order is already not capable of supporting global stability, and new centers of influence are not yet ready for it. This is the situation in which the Russian Federation must realize its chance to play a role dictated to it by a civilized model, great history, geography and cultural genome. In military-political terms, we are talking about creating pockets of security and stability in Eurasia.
Although in the science community the philosophical-political science driven discussion continues to be, "Does Russia have the necessary cultural resources and enough of them to form a new geopolitical center for integration on its post-Soviet stretch", the need for that last one is no longer being questioned, especially when the integration of military-political projects are being implemented and successfully developed, a big part of which is accomplished under our country's leadership.
"The complexity of ethnic make up, overpopulation, Soviet times shifting borders of soviet times, and water wars all make the situation in Central Asia dangerously explosive"
First, we are talking about the Shanghai Cooperation Organization (SCO), the Eurasian Economic Union (EEU) and the Collective Security Treaty Organization (CSTO). But there are a series of problems that prevent these integration projects from becoming full military-political unions. They don't have to do as much with challenge and threat parry as much as with an absence of a clear cultural orientation. Besides demonstrating her political, economic, military and other abilities, Russia must formulate common values with its partner countries.
A civilizational development vector of new independent nations can be directed toward both, the Western democracies and also other political "designs". This will be the choice that will determine the system of sociopolitical, economic and other national priorities in the sphere of security.
Possible changes in the currently folding world order being largely determined by a growing global economic and sociopolitical crisis deserve special mention. With that, the assertion that is strongly advocated in the West is, that in order to overcome negative tendencies, it is necessary that the base of national material resources (primarily carbohydrates) exist under international control. Already, in mid-term perspective it is necessary to expect a question on how its compulsory distribution will be introduced.
With an increase in military-political and economical instability in Eurasia, Russia has to work out a new concept of integrating the post soviet space, which may force changes in relations not only between CIS and CSTO but also with other nations of Asia and the Pacific Ocean region.
Remember that this type of integration assumes the delegation of powers on questions of war and peace on a supranational level, the development of common principles of action on an international arena, the search for allies in the defense sector, precise stages of military construction that's ultimately oriented with creating a single defense space on a global or regional scale.
Before it was assumed that a system of global international security would be created exclusively within the UN organizational framework which internally is glued together by a rough, approved by international legal terms structure, demanding fulfillment and controlling the performance of any of its resolutions (including implementing military and other forceful sanctions). Although, in a practical manner international law has since been applied very selectively in regards to security issues, and the mechanism of utilizing UN will more often than not act against countries and nations that West (especially United States) considers useless.
Under those conditions the role of regional security systems is growing objectively. But problems such that are brought forth by high dynamism, contradiction and even irrationality of the emerging world order arise, and they stand in the way of those systems' growth. At the same time, occurring are the processes of globalization and growing national egotism, dividing humanity into different axis of "social positions" which are related to exhaustion of natural resources, narrowing of a prosperous economic space, growth of demographic, ethno political and religious tensions and other factors that lead to a conflict of interests of various countries and nations, and the escalation of geopolitical rivalry.
Already, in North Africa and Mideast a peculiar "arch of instability" has formed. Central Asia holds a special place in this "arch". Considering that countries of that region found independence in the 90s, religion became more of a conflict. Islamic groups received a big freedom to act. But the authorities' ability to control and suppress became weak.
Social tensions in Central Asia can become a mechanism of escalation starting from revolting attitudes and turning to riots. The complexity of ethnic composition, the overcrowding of many neighborhoods, borders that moved repeatedly and arbitrarily during the soviet times, the struggle for regional leadership, the unresolved issues of water consumption, etc. make for an explosive situation.
Since NATO is concerned with the problem of stability in Afghanistan after they withdrew their ally troops from the territory, it is reasonable to expect the U.S. to strengthen their efforts to involve individual countries like CSTO members in joint actions. Taking the above into account, it seems reasonable to begin work on preparing the organization for a possible worsening of a military and political situation in Central Asia.
First, it seems necessary to clarify the existing doctrinal documents of CSTO and also work out new ones. The new documents should clarify the strategy on the development of this organization, and also find an approach on how to interact with other international security organizations.
Giving CSTO special powers should be considered, in order to respond to possible complications in military and political situations in Central Asia. Given the fact that the organization's legal documents do not involve the participation of the Collective Rapid Reaction Force when it comes to making decisions on domestic policy issues, the main issues on maintaining stability should be entrusted to a Collective peacekeeping force. For this, it is particularly necessary to remove several nations' constitutional bans on using armed forces outside of national territories. Beside that, the CSTO has to work out an agreed upon strategy on Afghanistan.
It is important to consider that in case the military-political situation in Central Asia escalates, an influx of NATO's peacekeeping force under UN auspices or OSCE international police force into the region cannot be excluded as an outside initiative. That is why it is necessary to work out agreed upon positions of the CSTO member states on responding to such initiatives early on.
When it comes to the escalation of the military-political situation in Syria, we have to look at the possibility of creating security structures not only in CSTO, but also in the Shanghai Cooperation Organization. Currently it unites Russia, China, Kazakhstan, Kyrgyzstan, Uzbekistan and Tajikistan. Mongolia, India, Pakistan and Iran hold the observer status. On March 24th, 2008, Iran submitted an official application to the secretariat for a full membership. An SCO Charter where goals, principles and main trends of partner relations development that covers socioeconomic, humanitarian and military spheres is accepted. Moreover, cooperation in the field of defense is isolated as one of the priorities, although the organization is not considered a traditional military-political block.
The role of SCO in building a system of collective security in Central Asia is not only determined by a total territorial and demographic potential (the total area of country members is nearly 30 million square kilometers, which makes up 3/5 of Eurasia, and the population is 1,455 billion, or ¼ of humanity), but also by a marked and strategic partnership of two nuclear powers and permanent members of the UN Security Council – Russia and China.
CSO now declares itself as a Eurasian organization of the universal type. It got far ahead in the way of development an international partnership in the security sphere, establishing strategic alliance (military training), and also in the development of common political concepts. With that, CSO has not yet made any decisions about a possibility of converting into a military-political block. Questions on developing international organizations or a unified command have not yet been raised.
In the new edition of the national security doctrine of the PRC it says that China votes for the concept of security that is based on mutual trust, benefit and coordination, is not striving for hegemony and will not participate in arms expansion. Particularly, it doesn't plan on replacing NATO in Afghanistan after international coalition troops have left the country. The Chinese also believe in this, as Robert Browning famously quotes, "America's opportunity to be able to reach something is not supposed to give it the ability to grab everything".
Russia and China are seeking to create around them a circle of security stemming from friendliness of both nations, whose goals and challenges are near and dear to CSTO, EAEC, and SCO. The question on a close integration of these organizations remains open. With this, it is possible to put an end to a conflict of interests of the geopolitical players that are from Eurasia and Asia Pacific regions.
Vladimir Zakharov,
Dr. of Military Sciences