Originally appeared at ZeroHedge
Clearly the war in Syria and the international push for regime change against Assad has created strange alliances in the Middle East over the past few years. Among the strangest bedfellows are the Israelis and Saudis. It's no secret that common cause in Syria of late has led the historic bitter enemies down a pragmatic path of unspoken cooperation as both seem to have placed the break up of the so-called "Shia crescent" as their primary policy goal in the region. But that's perhaps why few pundits seemed overly shocked when Israeli media late last week began reporting that a Saudi prince made a secret visit to Israel, in spite of the fact that the kingdom does not recognize the Jewish state, and the two sides do not have diplomatic relations.
Last Wednesday (9/6) Israel's state funded Kol Yisrael radio service made cryptic reference to the "secret" yet historic visit while withholding names and specifics. "An emir of the Saudi royal court visited the country secretly in recent days and discussed with senior Israeli officials the idea of advancing regional peace," the station reported. It added further that, "Both the Prime Minister's Office and the Foreign Ministry refused to comment on the issue."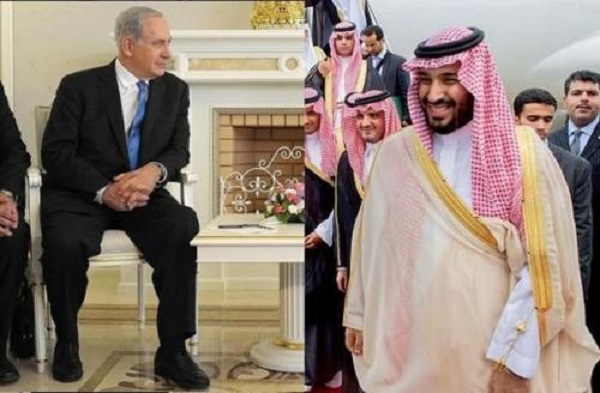 Left: Israeli Prime Minister Netanyahu, Right: Saudi Arabia's Deputy Crown Prince Mohammed bin Salman
The visit is said to have occurred the same week Israeli Prime Minister Benjamin Netanyahu confirmed "unprecedented" relations with the Arab world. Netanyahu made the comments before members of the foreign ministry and said, "Things that are happening today between Israel and the Arab world are unprecedented. Cooperation on a wide range of issues are occurring behind the scenes, more than at any time in Israel's history."
But on Sunday reports began to emerge that the unidentified Saudi royal in question is no less than Crown Prince Mohammad bin Salman, which would indeed be shocking news:
On Sunday, the IUVM Online Arabic news outlet identified the Saudi official who reportedly visited Israel as Crown Prince Mohammad bin Salman, the Defense Minister of Saudi Arabia and heir apparent to the throne.

The IUVM Online report cited a United Arab Emirates intelligence officer, who claimed that bin Salman was the member of the Saudi royal family who met with Israeli officials in last week's secret meeting.
Western journalists also began on Sunday to report the dignitary as being Crown Prince Salman – something which could have huge geopolitical consequences for the region given that such a high level meeting would possibly take place at all.
#Exclusive Saudi Crown Prince Muhammad bin Salman was on secret visit to Israel. #breaking

— Noga Tarnopolsky (@NTarnopolsky) 10 September 2017
!!!!! https://t.co/N5HD9JUYum

— Eli Lake (@EliLake) 10 September 2017
The reports were immediately disputed and subject to disbelief and controversy. As bin Salman's name continued to circulate Sunday, the Saudi Embassy in Washington D.C. attempted to shut down news of the visit. A senior Saudi diplomatic official took to Twitter with a simple "Nope" in reference to the allegations.
— فيصل بن فرحان (@FaisalbinFarhan) 10 September 2017
Of course, if true such a dramatic move between the countries would signify a monumental shift in relations and outlook. On Sunday Israeli media was also broadly advancing bin Salman's name as the Saudi emir in question.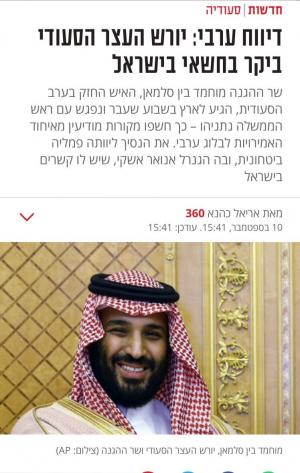 Multiple Israeli outlets on Sunday identified Deputy Crown Prince Mohammed bin Salman as having met with senior Israeli officials early last week.
Though initial reports in Israeli media speculated that it could mean positive momentum on the Palestinian issue, it is unlikely that the future king of Saudi Arabia himself would suddenly pay a personal visit to Israel over an issue which has stalemated regional diplomacy for decades. It also doesn't appear that Israeli policy on settlements has undergone any significant on the ground change. If true, public knowledge of the visit will certainly result in embarrassment for both countries, especially on the Saudi domestic front.
The initial Israeli public radio report referenced the visit of "an emir of the Saudi royal court" on Wednesday while saying the trip took place "in recent days". As both Israel and Saudi Arabia have been so heavily invested in pursuing regime change in Syria, and at a time when other world powers seem to be backing off, it is inconceivable that Syria wasn't high on the agenda during the unprecedented visit.
The timing of the meeting also seems more than just coincidental in relation to last week's Israeli airstrike on a Syrian military facility, which took place in the middle of the night Wednesday (or more precisely Thursday morning at 3:00 am). As we reported at the time, Israel's brazen act of aggression was designed to provoke a response from Syria. As the Syrian government stands poised to be victorious in the more than 6-year long conflict while rapidly regaining more and more territory, Israel seems desperate to keep the war going and is still making last ditch efforts to draw external powers deeper into Syria, though framing its aggression as "humanitarian".
Could the two powers have been engaged in face to face talks over renewed efforts at ramping up the stalled war for regime change in Syria? After all, Israel's declarations of its willingness to do anything to prevent an enduring Iranian presence in Syria have reached a new erratic pitch of late. During Netanyahu's recent contentious summit with Vladimir Putin in Sochi, the Israeli leader reportedly warned Putin that Israel would not tolerate an enlarged and stronger Shia sphere of influence along Israel's border. Yet the current trajectory of the war in Syria ensures just that, especially after the US-Russia brokered Astana agreement seemed to give tacit approval of Iranian troop presence in parts of Syria, while placing Russia in the driver's seat. It was further revealed that a senior Israeli official accompanying Netanyahu on the trip threatened to assassinate Syrian President Assad by bombing his palace in Damascus, while further adding that Israel will seek to derail the Astana de-escalation deal.
As for Saudi Arabia, while its deep embroilment in inter-GCC diplomatic war with Qatar seems to have tempered what used to be routine calls for Assad's departure, it must be remembered that the current unraveling of the GCC is ultimately benefiting Iran. It is entirely possible that the Iran issue alone might drive the kingdom into direct engagement with Israel no matter the risks and political embarrassment (for example, news of the visit hands Iran a propaganda victory and likely more influence on the so-called Arab street, even perhaps within Saudi's own domestic population).
Saudi Arabia could also be worried about future blowback from its well-documented actions in Syria. A WikiLeaks cable released in 2015 as part of the "Saudi Leaks" trove of internal leaked Saudi diplomatic memos speaks to just this scenario. Though the memo's exact date is unknown, it was drafted sometime in early 2012 based on internal references in the Arabic text. It spells out the kingdom's internal long term rationale on Syria: that should the Syrian regime "be able to pass through its current crisis in any shape or form" then increased "danger for the Kingdom" means Saudi Arabia must "seek by all means available and all possible ways to overthrow the current regime in Syria." A full translation of the key passage reads as follows:
"In what pertains to the Syrian crisis, the Kingdom is resolute in its position and there is no longer any room to back down. The fact must be stressed that in the case where the Syrian regime is able to pass through its current crisis in any shape or form, the primary goal that it will pursue is taking revenge on the countries that stood against it, with the Kingdom and some of the countries of the Gulf coming at the top of the list. If we take into account the extent of this regime's brutality and viciousness and its lack of hesitancy to resort to any means to realize its aims, then the situation will reach a high degree of danger for the Kingdom, which must seek by all means available and all possible ways to overthrow the current regime in Syria."
Newly Translated WikiLeaks Saudi Cable: Overthrow Syria, but Play Nice with Russia https://t.co/aeBKElnSHd pic.twitter.com/FWjejyAlPs

— WikiLeaks (@wikileaks) 25 February 2016
Whether or not it was in fact Crown Prince Salman that himself went to Israel, the timing of the high level delegation's visit is simply impossible to ignore. Simply put, Syria was without a doubt discussed… and shortly thereafter Syria was bombed. Such direct and closer relations among perennial enemies could be a sign of more escalation and desperate measures to come in the region. This is certainly not – as Israeli media reported – a sign of regional peace.