Originally appeared at ZeroHedge
In what Beijing has called a "legitimate and necessary response" to last Friday's federal agent raid and forced closure of China's consulate in Houston — slammed as "unreasonable actions" — the American consulate in Chengdu, capital of southwestern China's Sichuan province, has officially been shuttered as of Monday morning.
"At 10am on July 27, according to the Chinese side's request, the US Consulate General in Chengdu was closed," the Chinese Foreign Ministry said.
Tight security was seen around the complex throughout the weekend as moving vans pulled up to the facility. CGTN, the Chinese state broadcaster, announced that the American flag had been lowered at about 6:18am local time on Monday.
#US national flag lowered in #Chengdu consulate pic.twitter.com/nBuJIWGkXP

— CGTN (@CGTNOfficial) July 27, 2020
The Chinese Foreign Ministry has confirmed the departure of all American diplomatic and local staff.
Chinese authorities "entered through the front entrance and took it over," including what international reports described as security men in hazmat suits.
Video: U.S. #consulate staff in SW China's #Chengdu leave under high security pic.twitter.com/KZiYZJJXwD

— CGTN (@CGTNOfficial) July 27, 2020
Staff could be seen departing in the early morning hours amid tight security and a crowd of onlookers.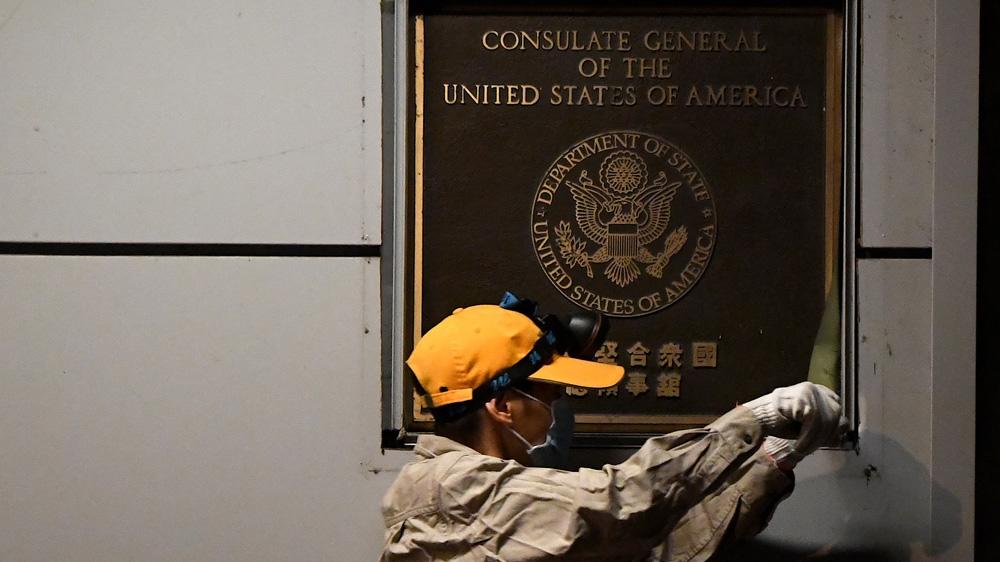 While the Chinese consulate in Houston had been given 72 hours by the US government to vacate before it was seized by federal agents wielding crow bars and power tools to gain entry, it's as yet unclear how much prior warning the Chengdu consulate had before closure.
CNN had described of Friday's final raid and shutdown of the Chinese consulate in Houston as follows: "US federal agents and local law enforcement entered the Chinese consulate compound in Houston earlier Friday in a series of black SUVs, trucks, two white vans and a locksmith's van as a crowd of observers and news cameras observed from the edge of the diplomatic compound."