It's like it's a holiday of some sort.
The main suspect in organizing the Ataturk Airport attack is a Chechen militant by the name of Akhmed Chataev whose biography will simply knock your socks off.
The fact that some particularly stubborn types hurried to find a "Russian trail" happened largely because they did not bother to acquaint themselves with Chataev's life story.
"Akhmed Chataev was born on July 4 (or 14), 1980, in Vedeno, currently located in Chechnya. He lost an arm above the elbow during the Second Chechen War. Russian authorities believed Chataev was Doku Umarov's representative in Western Europe and accused him of either financing and recruiting terrorists, or membership in a militant groups. A warrant has existed for his arrest since 2003. It is in that year that he received a refugee status in Austria. According to Kommersant, he might have testified he lost his arm due to torture. The paper adds his nickname is "One-Armed."In 2008, Chataev and several other Chechens were arrested in Trelleborg, Sweden. Police found weapons in his car; Chataev spent over a year in a local jail.
In January 2010 Chataev was arrested in Uzhgorod, Ukraine. Ukraine MVD head Yuriy Lutsenko said his mobile phone contained instructions on rigging explosives, and also photographs of dead bodies, including bombing victims. According to Lutsenko, the police questioned Chataev's documents' originality, including his refugee documents issued in Austria.The European Court of Justice forbade his extradition to Russia, therefore Ukraine sent him to Georgia where he was also accused of a crime he committed in '00s. No information is available about that case.
Chataev spent some time in Georgian prison, but then he came out, got married, and stayed in Georgia. Nevertheless, on May 19, 2011 he was once again arrested on the border between Turkey and Bulgaria. Bulgarian court initially wanted to extradite him to Russia, but an appeals court overturned it.
Chataev in a Bulgarian court
http://www.newsru.com/world/02jul2011/terrorist.html
In late August 2012, there was a gunfight between Georgian police and militants in the Lopota Gorge in Georgia, close to the border with Dagestan. On September 8, MVD announced that a wounded Akhmed Chataev was arrested in the gorge as one of the militants. His foot had to be amputated due to the wound. At the time of his arrest, Chataev had two F-1 grenades, and was accused of unlawful weapons possession. At that time he already had Georgian citizenship. It was earlier reported he lived in the Duisi village in the Pankissi Gorge, the same area where Umar ash-Shsishani, an Islamic State leader, had also resided. Chataev was ultimately found not guilty.
 It became known in April 2015 that Chataev went off to fight in Syria. According to a Caucasian Knot source in the power agencies, he left there in February 2015. By October, US listed him as a terrorist on suspicion of recruiting for ISIS. Russia's National Anti-Terrorism Committee (NAC) believes Chataev to be the main ISIS recruiter involved in searching for individuals to carry out attacks in Russia and Western Europe. It was also reported that he used to be in the Interpol database, though not any more.
It's a remarkable personality, but even more remarkable is the touching tolerance of European countries which could have extradited him to Russia on many occasions, where he would have been safely locked up, but he was a "Chechen freedom fighter", which they did not hold against him.
Chataev spent 13 years freely moving about Europe and CIS. According to LifeNews, he benefited from Ukrainian nationalists' support. "The bottom line is that Chataev freely moved about Europe and CIS, often with weapons in his possession, while several countries' governments chose to ignore his dangerous and illegal activities in order to make life harder for Russia. In January 2016, the NAC warned that Chataev was the commander of a special unit within ISIS, focusing on preparing attacks in Russia and Europe.Moreover, Chataev was arrested more than once. In 2010 he was arrested in Ukraine. Russia was not able to have him extradited because of the intervention of SBU head Valentin Nalivaichenko and the European Court of Human Rights, both of whom claimed Chataev could not get a fair trial in Russia. Ukrainian nationalists also interceded on behalf of Chataev. The Ukrainian "Tryzub" organization bearing the name of Stepan Bandera (whose members would form the core of the Right Sector during the Maidan) held a picket in front of the Procuracy office demanding his immediate liberation as a "Chechen refugee." And he was released.
https://lenta.ru/news/2016/06/30/terraktstambul/
As far as Ukraine is concerned, let's remind ourselves of the refined examples of how the future organizer of Stambul airport attack fought for freedom.
To the President of Ukraine Yushchenko,
To the Prime Minister Timoshenko
To SBU Head Nalivaichenko

An Address by the International Anti-Imperialist Front
According to media reports, Ukrainian law enforcement in Uzhgorod arrested a Chechen political refugee Akhmed Chataev, who also suffers from Category 2 disability.
Chataev has the official refugee status issued by Austria, where he has lived for years. He was in Ukraine on personal business, has not violated any Ukrainian laws, and intended to return to Austria before being snatched.
According to recent information, Chataev was arrested at the request of Russian special services. Moscow wants Kiev to extradite him as soon as possible because he "is a participant of combat operations against Russian forces in Chechnya. It was reported that Russian officials have already flown to Ukraine with an extradition dossier to pressure Ukraine's government. Such actions by Ukraine's authorities contradict not only national interests, but also common sense because the Kremlin puppet who has only recently received Putin's approval to govern Chechnya, Ramzan Kadyrov, has openly called for Ukraine's statehood to be annulled. Shortly after that, Kremlin agents in Ukraine have arrested a Chechen patriot who at one time fought against Russian aggressors and Kadyrov's lackeys, weapon in hand. The International Anti-Imperialist Front is lodging a firm protest against sneaky actions by Fifth Column members in Ukrainian law enforcement and demands the immediate release of the unlawfully arrested Chechen freedom fighter Akhmed Chataev. If these demands are not fulfilled, the Front and other organizations may launch mass protest actions. 
Down with Kremlin agents in Ukraine security structures!
For your freedom and ours!
Anti-Imperialist Commitee Executive Committee Chahirman
Dmytro Yarosh
http://zugunder.com/index.php?topic=164443.0
Nalivaichenko himself considered the arrest unwarranted and scandalous. He was liberated thanks to personal intervention by Nalivaichenko and Ukrainian nationalist protests.
http://www.yaplakal.com/forum3/topic1405968.html
Now about Georgia. Saakashvili is blaming everything on his successor Ivanishvili.
"The Russian citizen Akhmed Chataev appears to be the main organizer of the Istanbul attacks. He was arrested by my government in Georgia during an operation headed by General Georgiy Lordkipanidze who is currently the head of Odessa police. Three of our police officers died in that operation," Saakashvili wrote.
He also said that the Ivanishvili-led government which assumed power in 2012 released Chataev as a political prisoner.
"I was still the president at the time and was outspoken against his release, but the verdict was annulled by the Prosecutor's Office. He is now free even though he killed many innocent people. My 10-year-old son traveled through that terminal shortly before the attack, therefore I feel full solidarity with the victims' relatives. Does Georgia's government feel the same?", Saakashvili summed up.
http://www.dialog.ua/news/90370_1467314674
The question why the "pro-Russian" Ivanishvili government did not extradite Chataev to Russia should be posed before Georgia's government.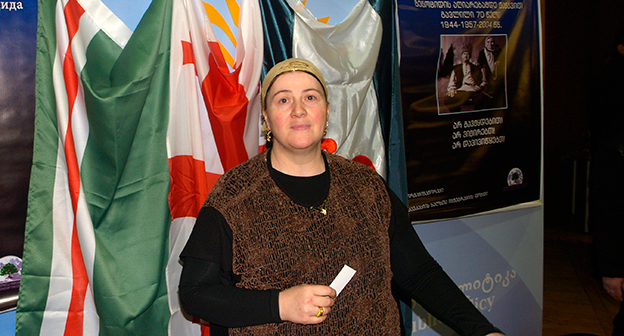 "At present time, the relatives of Akhmed Chataev are holding a meeting in front of the Ministry of Justice demanding his release.
Ministry officials invited the protesters to meet with the minister. The meeting will be attended by the advisor to the State Minister for Integration Issues, Meka Khangoshvili.
"The population is demanding the operation to be investigated. It is very important for us that Akhmed Chataev, who is innocent, to be released. The entire Pankissi Gorge is vouching for this man," Meka Khankoshvili said, adding that the Prosecutor's Office had all the legal basis to release Chataev."
http://news.ge/ru/news/story/38952-vozle-ministerstva-justicii-prohodit-akcija-s-trebovaniem-osvobodit-ahmeda-chataeva
I'd like to add that in 2012, when this statement was made, Saakashvili was still president.
Georgia's Minister of Justice at the time explains this clash as follows.
"Akhmed Chataev's name made news after the Lopota Gorga operation. Chataev was the only one taken alive. He was accused of illegal acquisition and possession of explosives. After the government changed, the Tbilisi City Court replaced imprisonment with a conditional release under a $3000 bond. Minister of Justice Teya Tsulukyani said that she was against releasing Chataev. "I was in favor of Prosecutor's Office paying even greater attention to such individuals following their release," adding that it was impossible "because the Office released people only because of politics or pressure" by the former Chief Prosecutor Zurab Adeshvili.
http://www.apsny.ge/2016/pol/1467353450.php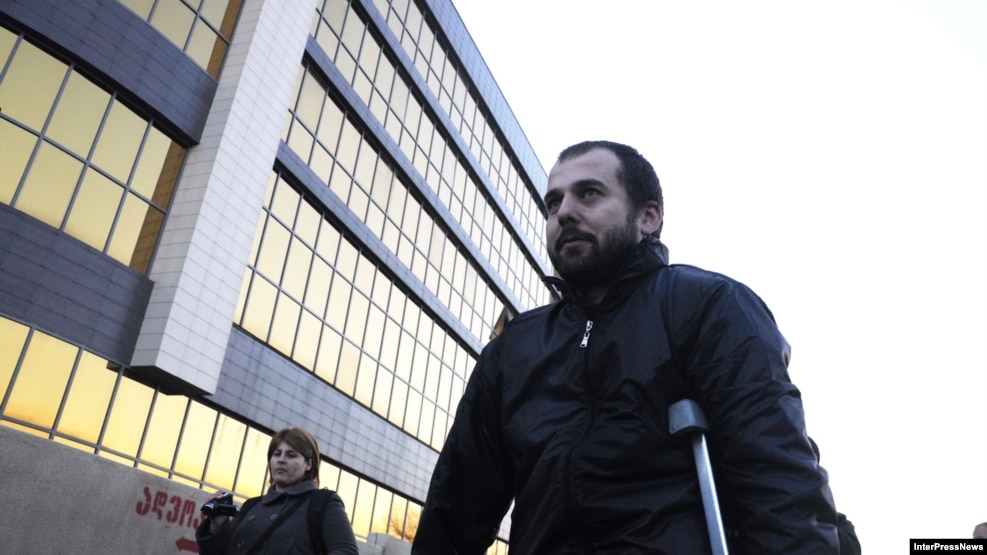 Chataev after release, 2012
And here's the article from Le Monde describing his arrest in Georgia, where it's apparent that Georgia's leaders, past and present, were trying to shift responsibility on to one another.
The confusing operation in Lopoto Gorge
On August 29, 2012, Georgian special units carried out a bloody operation in the foothills. This was the most serious incident in Russia-Georgia relations since the 2008 war. Police engaged an Islamist group which held hostage five Lapankuri inhabitants for two days. Negotiations failed, making fighting inevitable. TV showed corpses of people in camouflage and the sizable captured arsenal: Kalashnikovs, Makarov pistols with silencers, a sniper rifle, grenade launchers, most modern binoculars.
The militants wanted to penetrate into Dagestan
Seven militants were killed, as well as 3 cops. 10 militants escaped into the forest. The government immediately said it could have been a provocation which was in Russia's interests. Georgian leaders believed these people came from Dagestan, but it turned out to be incorrect. Several militants spoke Georgian. Two of them were Kistintsy, a Chechen group living in Georgia. Freed hostages helped clarify the intent of the militants: they wanted to go to Dagestan, not the other way around. This raised the specter of 2000's. Was Georgia once again becoming a Chechen Islamist base? That's what Moscow had always said. The Putin-Saakashvili enmity only broadened the chasm separating Russia and Georgia. Paranoia, conspiracy theories, and espionage accusations blossomed on both sides.
Lopoto Gorge events raise many questions. The Ivanishvili camp openly voiced its suspicions that the former parliamentary majority could have sponsored the Islamists. He promised to disclose evidence in June. "Everyone knows that the militants used Georgia as a transit point for many years prior to the 2008 war. We have stopped it, it will never happen again. There are suspicions that the government collaborated with them, or at least knew they were present.These suspicions were launched by the newly appointed ombudsman Ucha Nanuashvili. His annual report was published on February one, where the Lopoto Gorge operation had its own chapter. Nanuashvili blamed former government in transferring almost 120 Chechen terrorists from Europe to Georgia, arming and housing them, and training them on two military bases. But with what puprose? And why did it then attack the militants? "I don't know–said Nanuashvili–but they believed the government would open a corridor into Russia. They were all very young, 18-25. Maybe they were going to be used against Russia. Or to settle internal scores." Nanuashvili cited anonymous "witnesses" when asked for evidence. "I am not a journalist, I have the right to ask questions. Those aren't final conclusions." Saakashvili rejected the accusations. "We were not interested in destabilizing the situation before the elections. We wanted to improve the population's conditions, not stage a bloodbath in a forest. But what if this group entered Russia and killed people? How would Moscow react? They would have gone after the militants, entering Georgia's territory in pursuit."
During the operation, Georgia's Minister of Defense was Bacho Akhalaya who was arrested in November 2012 for abuse of authority and mistreatment of soldiers. Both political camps note that one of the reasons for the tragic outcome of the clash was the competition between Akhalaya and then-Prime Minister Vano Merabishvili, who now heads the "United National Movement" party.
Zelimkhan Khangoshvili in Pankissi GorgeSaakashvili claims the government knew of the militants only after they kidnapped five Georgians, on August 26. We were able to meet with three of them, however, they did not want to talk to us. Their relatives said they were forced to act as guides on the way toward the border with Dagestan. After two days they were exchanged for a border guard. "When we saw they have satellite phones, we asked the Americans to intercept their communications, but it was no use," Saakashvili said. "We told the CIA rep about it. In addition, we warned the Swiss in order to show we had nothing to hide."
Before the battle, the authorities began negotiations, demanding the militants turn back. Georgian government was represented by Zelimkhan Khangoshvili. He commanded a unit of 100 militants between 2000 and 2005. FSB considers him a terrorist, but Georgia's special services often used his help due to his familiarity with local conditions. We met with him in a restaurant on the outskirts of Tbilisi, where he told us about the militants' final hours:
"The detachment was in a forest, high in the mountains. They were waiting for us. All they had to do is cross the mountain. I said it was a mistake, Georgia would not let them pass. They were told that if they lay down their arms, those who came from Europe will have to leave, while others will be able to return home. They were very aggressive, and did not want to make any concessions. It was a dead end."
But who were these 17 militants in Lopoto Gorge? Many were from the Chechen diaspora in Europe, particularly Austria. All told, 14 came from abroad. Two entered Georgia illegally from Russia, through Dagestan. 12 others entered the country legally: the first half in April-May 2012, the second in August. Some took a direct flight from Europe, others through Istanbul, yet others crossed the border from. Turkey at Sarpi. 11 had Russian passports which gave them to remain in Georgia without a visa. 7 had entry permits due to their status as Chechen refugees: three were issued in Austria, two in France, and one each in Finland and UK. The ombudsman claims that some were able to get Georgian passports with the aid of European embassies.

Thus these individuals came to Georgia weeks and even months before the battle. "Majority of them were Islamists, but some maintained contacts with Russian special services," says Saakashvili loyalist and Georgia National Security Council Secretary Giga Bokeria. "Not a single European country warned us they were Islamists. Georgia's MVD claims these individuals did not conceal their arrival in Georgia, so that the previous government knew everything about them.
10 of the militants were never caught. The ombudsman supposes the previous government's officials helped them run away. One of them, nicknamed Abu Hamza, fought for two months in Syria, then returned to Austria. He gave an interview to a Foreign Policy journalist in Pankissi Gorge, shortly before the Boston attack. He said that about 100 Chechens were fighting against the Syrian government, but did not say anything about the Lopoto Gorge group.
 A Chechen refugee in Austria
Merabi Margoshvili has no doubts his son Aslan was manipulated. In September 2011, the 22-year-old man dropped out of college. He said he was going to his friends in Finland. They were sending him money. He said he'd return in a year. But he returned in two months, saying it was too cold, and that he'll go to Slovakia instead. I don't know with whom." In the end he turned up in Egypt. In March 2012 he returned to Georgia without telling his father. "Like others, he went to Egypt to study," Merabi thinks. "He did not attend the mosque here, he hated the Wahhabites. Last summer, many Chechens from Europe came to Duisi. The government had a plan. They were manipulating the Chechens."
Merabi believes in a conspiracy theory. He is sure he has a proof, which he already gave to the human rights defenders. It's a license to carry weapons, specifically a Stechkin automatic pistol, issued to his son on July 23, 2012, a month before his death. Georgian MVD confirmed its authenticity, but claimed it was not difficult to obtain one. Why would a young man who just returned to the country need such a weapon? The ministry said that captured weapons were not listed in governmental inventories.

http://inosmi.ru/sngbaltia/20130516/209060736.html
And now for the logical finale of a "freedom fighter's" career. Chataev resurfaced in the ranks of ISIS thanks to the efforts by Ukrainian fascists, European and Georgian human rights activists, a CIA agent, and the European Court of Human Rights.
February 2015. Syria. Abu-Jihad al-Shishani in the center, our hero sitting right next to him.
http://www.liveleak.com/view?i=039_1420585262&comments=1 – Here's a video with these individuals, the "anti-Russian freedom fighter" Chataev appears starting at 12:20.
Here's what attracts attention. In both cases, international terrorists were supported under the pretext of struggle against Russia. That was sufficient to justify their long-standing collaboration with terrorists. but now there is a problem, since the individual whom they helped bit the hand that fed him, moreover, the hand which was politically awkward to bite (though its also apparent that Chataev simply acquired a new boss and now he no longer serves the sponsors of Chechen militants but the Great Caliph himself). I won't even mention the well-known cases of Chechen militants receiving treatment in Turkey, as well as Georgia or Ukraine, Turkey's trade with ISIS, and using Turkey as a Caliphate recruiting outpost.
I will only say that the "anti-Russian fighter's" attack against the Turkish airport places all the previous protectors of Chataev in a very difficult position, so now they will aggressively deny their direct involvement in international terrorism and instead blame Russia, even though nobody other than Russia wanted this individual arrested.
Oh, and for dessert:
May it please the High Court,
We, the members of the Independent International Human Rights Group, are petitioning the Bulgarian government to release a Chechen refugee, the father of four children, Akhmed Chataev, who is being persecuted by Russia for his political beliefs. According to available information, Akhmed Chataev had his hand cut off in a Russian concentration camp, where he was also tortured with electricity which was applied to the stump.
Given all the facts of the case, Akhmed Chataev was given the status of refugee in Austria in 2003, and is therefore under the protection of the Austrian state.
In 2010, Akhmed Chataev was arrested in Ukraine and was threatened with extradition to Russia, but the European Court of Human Rights in Strasbourg used Rule 39 to instruct Ukraine's government that, due to his Austrian refugee status he could not be extradited to Russia.
<…>
We believe that Bulgarian authorities' actions are violating human rights principles, inflict injury not only to asylum seekers but also Bulgaria's international image by demonstrating noncompliance with voluntarily accepted obligations.
Given all the facts of the case, we petition the Appeals Court of the Republic of Bulgaria to free Akhmed Chataev.
Respectfully, the members of the Independent International Human Rights Group
Viktoria Pupko–President, Anna Politkovskaya Foundation, USA
Mairbek Taramov–Director, Chechen Human Rights Center, Sweden
Nadezhda Banchik–journalist, member of Amnesty International USA
Said-Emin Ibragimov–President, World and Human Rights International Association, France
David Kudykov–journalist and writer, PEN-Club, UK
Maio Plado–human rights movement activist, Estonia