Compiled for SouthFront by J.Hawk. Original sources indicated in the links below.
Strategic Forces
Russia's Over-The-Horizon radars capable of detecting cruise missile launches.
A test of an OTH radar station indicated that it is capable of detecting cruise missile launches, according to the Mintz Radio-Technical Institute Sergey Boyev. The radar station in question is located at the "Western Radiotechnical Node", though without specifying the location.
Interview with SPRN system General Designer Sergey Boyev
According to Boyev, the work on establishing a comprehensive ground-based SPRN system for detecting strategic missile attacks directed against Russia's territory is proceeding at an accelerated pace, in order to have the system ready before the original deadline of 2020. Recent tests have shown ground based systems over-the-horizon radars are capable of detecting cruise missiles and their launching aircraft, and there is ongoing work to counter hypersonic threats should such weapons be deployed by NATO. Russia's SPRN system faces a number of challenges, including the absence of even a single early warning satellite in orbit, import substitution as some 70% of all systems used utilize foreign components of some kind, and construction delays.
Ground Forces
Arsenyevo-based Progress plant delivers the 7th Ka-52 helicopter of the year.
It is also manufacturing ship-based Ka-52K helicopters originally intended for the Mistral amphibious assault ships.
Russian MOD is evaluating the possibility of resuming BMP-3 deliveries as a stop-gap measure to quickly upgrade Ground Forces' infantry fighting vehicle fleet until Kurgenets-based B-11 and Armata-based T-15 IFVs become available in large numbers. Armiya-2015 forum displayed a prototype of an modernized BMP-3 featuring extra armor and a new fire control system with a thermal imaging sight.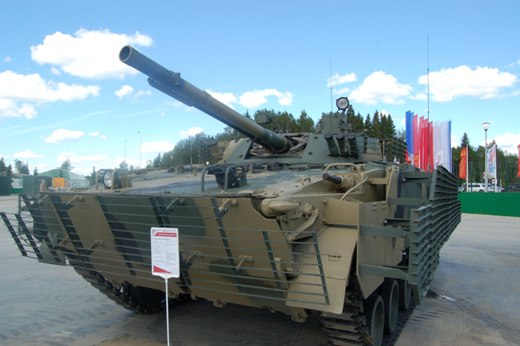 57mm automatic cannon proposed for BMP-3
 The Burevestnik R&D Institute web site displayed the AU-220M weapon module fitted with a 57mm cannon (120 rounds per minute, 200 round ammunition supply) intended for BMP-3 vehicles and, likely, for the new IFVs which currently are armed with a 30mm cannon. Such a weapon system would represent a major leap forward in the firepower of such vehicles. There is also discussion of fitting this module to IFV variants of Kurganets and Armata families.
Arctic Military Parade: "Alaska, Come Home!"


The parade took place on 9 May 2015 on the Kotelnyy Island, with the participation of the troops and equipment of the 99th Tactical Group. The accompanying video, in addition to the new Arctic transport vehicles shown above, also showed self-propelled anti-ship missile systems and Pantsyr-M short range air defense systems adapted for Northern conditions.
 Ground Forces testing a robotic minesweeper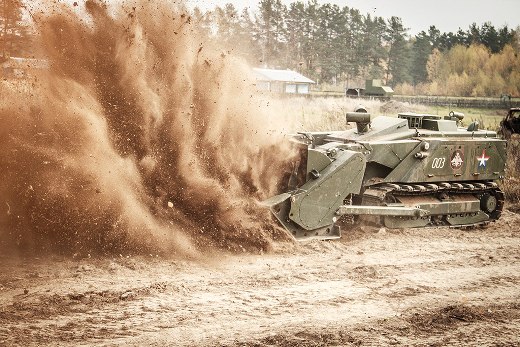 The six-ton Uran-6 vehicle can be equipped with a variety of sweeping devices to deal with both anti-personnel and anti-tank mines, and can be remotely controlled up to 800m from its control console.
Several dozen of these lightly armored vehicles are on order since the vehicle was officially accepted for service in April 2015. They will replace unarmored 4×4 utility vehicles of the UAZ family.
The training exercise took place in Tadjikistan by troops of the 201st Military Base (formerly the 201st Motorized Rifle Division), using Grad missile launchers whose fire was adjusted using Forpost and Orlan-10 UAVs.
Central Military District receives 30 Tigr armored vehicles
They were assigned to a mountain rifle brigade stationed in the district.
 Uragan-M multiple rocket launcher completes testing
The features of the modernized Uragan system include the ability to fire not only the original 220mm Uragan rockets, but also the longer-ranged 300mm rockets used by the Smerch system. Artillery regiments will start receiving Uragan-M systems already in 2015.
Air Forces

So far there is no official information on this matter, except for the fact that Nizhniy Novgorod-based Gidromash enterprise announced that it will resume building chassis systems for MiG-31 long-range fighter interceptors, which would be consistent with the resumption of the fighter's production, rather than mere modernization. The MiG-31's flight radius and long-range radar and weapons makes it an ideal fighter aircraft to patrol the large expanses of the Arctic.
Ulyanovsk-based Aviastar-SP modernizes another Il-76MD-90A
This is the fourth heavy transport plane of this type to be modernized by Aviastar. The plane carried out a seven-hour flight as part of its acceptance process. These aircraft represent the backbone of Russia's airlift capability, and are able to airdrop and/or airland a wide variety of cargoes (including armored vehicles though not main battle tanks) at large distances and to improvised field strips, including on glaciers.
Kurganpribor launches missile production
The plant will manufacture both air-to-air and air-to-ground weapons of latest models, and will expand its current workforce of 193 by over 500 new employees. This appears to be part of an effort to replenish and renew Russian Air Forces munitions stocks.
Two new Su-34 bombers arrive at Morozovsk
The two newly built bombers will be part of the 559th Separate Bomber Aviation Regiment of the newly re-established 4th Red Banner VVS and PVO Army located in the Southern Military District. The arrival of these two bombers brings the total number of Su-34s in the regiment to 33 aircraft.
Naval Forces
Ivan Gren construction continues
The Ivan Gren is a large amphibious assault ship under construction by the Yantar shipyard in Kaliningrad. It was laid down in 2004, launched in 2012, and it will likely be completed in 2016, with additional ships to follow. The failure of the Mistral contract means that the Grens are likely to become the mainstay of Russian naval amphibious forces for the foreseeable future. Their carrying capacity is similar to that of the Mistrals, except for the number of helicopters.
Buyan-class missile boats to patrol the Mediterranean


The Russian naval base in Novorossiysk recently received two new Buyan-class missile boats, the Zelenyy Dol and Serpukhov, which will officially join naval service in November 2015 as part of the 166th Separate Small Missile Boat Squadron based in Sevastopol. They are scheduled to start participating in the Mediterranean patrol starting in 2016. These small ships have remarkable capabilities, as their UKSK launch cells make them the world's smallest ships to carry long-range cruise missiles, in this case of both the Oniks and Kalibr/Club families.
Admiral Kuznetsov completes a three-month overhaul
VMF's flagship had its engineering and missile electronic and electrical systems refurbished in the naval repair facility in Roslyakovo, and is now ready to resume its duties.
Northern Fleet pilots train at the Nitka facility
The Nitka facility, located in Saki, Crimea, is used to train naval pilots in carrier landings and take-offs. Initial training is performed in Su-25UTG aircraft pictured above, after which the pilots transition to Su-33 fighters which form Admiral Kuznetsov's air group.
International Cooperation
Algeria buys Mi-26 heavy-lift helicopters
The procurement of 14 of these machines will make Algeria the second-largest operator of Mi-26 copters, and give the country a formidable helicopter lift capability. The Mi-26 has a variety of both civilian and military applications, and it is not clear what Algeria has in mind for a helicopter fleet of this size.
Pakistan buys Mi-35 attack helicopters
Pakistan signed a contract to buy 4 Mi-35M attack helicopters, a remarkable development considering that Pakistan usually buys Western and/or Chinese weapons, with its rival India being more of a customer for Russian-made weapons. The procurement of these aircraft (which may be followed by additional purchases–the initial discussions concerned the sale of a batch of 20 Mi-35Ms) suggests that the Shanghai Cooperation Organization may be effective at defusing regional tensions between India and Pakistan.